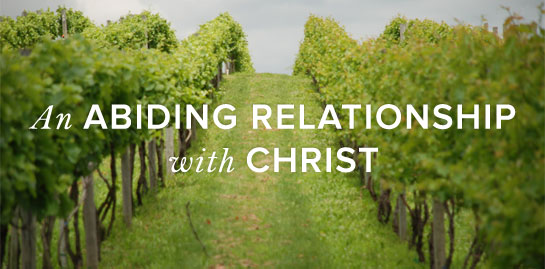 The following is adapted from a leadership workshop by Brian Brodersen titled, An Abiding Relationship with Christ. This workshop is part of the Servant Leadership class available free at the Blue Letter Bible Institute. Sign up today!
---
1 "I am the true vine, and My Father is the vinedresser. 2 Every branch in Me that does not bear fruit He takes away;fn and every branch that bears fruit He prunes, that it may bear more fruit. 3 You are already clean because of the word which I have spoken to you. 4 Abide in Me, and I in you. As the branch cannot bear fruit of itself, unless it abides in the vine, neither can you, unless you abide in Me. 5 "I am the vine, you are the branches. He who abides in Me, and I in him, bears much fruit; for without Me you can do nothing. 6 If anyone does not abide in Me, he is cast out as a branch and is withered; and they gather them and throwthem into the fire, and they are burned. 7 If you abide in Me, and My words abide in you, you willfn ask what you desire, and it shall be done for you. 8 By this My Father is glorified, that you bear much fruit; so you will be My disciples. 9 "As the Father loved Me, I also have loved you; abide in My love. 10 If you keep My commandments, you will abide in My love, just as I have kept My Father's commandments and abide in His love. 11 "These things I have spoken to you, that My joy may remain in you, andthat your joy may be full.
(John 15:1-11)
///////////////////////////////////////////////////////////////////////////////////////////////////
Jesus reveals to us the secret of a fruitful life.
A definition of fruit, as Jesus was talking about it, would really be "Christ manifested through us." Another way to describe it would be "personal godliness."
There are four aspects that I want to specifically consider regarding personal godliness, especially in how it pertains to leadership. Remember that Jesus is saying: "I am the vine, you are the branches." The picture is whatever the vine is, the branch is going to produce in fruit. So if Christ is the vine, then the production of fruit from us—the branches—is really going to be His life manifested through us. What do we see, first and foremost, when we look at Jesus?
The Fruit of Love
The first thing that we would probably have to say in consideration of the life of Christ is that Jesus was love. He was loving. He was full of love for people. Jesus was not aloof or detached from people. Jesus loved people, not theoretically, but practically. It is easy to say, "I love you guys" in theory. But what about practically?
People knew one thing about Jesus: they knew that He loved them. And if we are really bearing fruit, I think God's people are going to see that in our lives.
The Fruit of Holiness
Secondly, as we consider Jesus, we would of course all agree that Jesus was holy. He said, "I always do those things that please the Father" (John 8:29). It is so easy to get caught up in ministry and making sure that you are getting the right message out to everybody else, that you can neglect your own personal development. You can just overlook your own need to increase in holiness and become more and more like the Lord. Sometimes in our quest to be relevant, we compromise holiness. I think there is a lot of that going on in the church today.
The Fruit of Humility
Thirdly, we can very clearly see humility in Jesus. If there was ever anybody on the planet that could have been on an ego trip, it was Jesus. He was the epitome of humility. He was utterly and completely humble.
We see that demonstration of humility in John 13. Remember there at the supper when He took the towel, girded Himself, and He began to wash the feet of the disciples. They did not understand what He was doing. Peter said, "Lord, what are You doing? You cannot do this." Jesus said, "You do not understand what I am doing now, but you will understand later. You call Me Master and Lord and you are right because that is who I am. But if I, your Master and Lord, have done this for you, then you ought to do it for one another" (John 13:6-7; John 13:13-14).
Peter wrote in 1 Peter 5:5 about submitting to one another and he said, "And be clothed with humility." I am certain that as he penned that he had in his mind the night when Jesus took that towel and girded Himself. A literal translation of "be clothed in humility" is "put on the costume of a slave."
The Fruit of Grace
Fourthly, there is going to be grace. Jesus overflowed with grace. He was gracious. Think of Jesus in contrast to the other leaders of the day. Think of Jesus and that contrast in the eyes of somebody like Matthew, for example. Matthew was a tax collector. He was among the most despised people in all the land. The rabbis actually taught that very few people were beyond redemption; tax collectors, being traitors, were among the few considered beyond redemption. The tax collector had betrayed his people and he was serving the enemy. I can just imagine that as Matthew sat at his tax booth and collected taxes, whenever any of the rabbis passed by, they may have spit his way. They would have uttered or maybe muttered curses under their breath. They would have pointed in his direction with a condemning finger. The last thing Matthew would have ever thought by the impression being given by these guys was that there was any possible redemption for him.
But Jesus was obviously entirely different. He occasionally ministered near to where Matthew was stationed. I would imagine that at times Matthew overheard some of what Jesus was saying, or even maybe observed His interaction with people. Matthew probably began to think: "That rabbi is different. There is something about Him. I feel like I could approach Him. I feel like I could talk to Him. I feel like if I were to come to Him, He probably would not condemn me." And then suddenly what happens? One day he is sitting there, collecting taxes, and Jesus walks by and says, "Follow Me." Grace exuded from Christ and drew Matthew to the Lord.