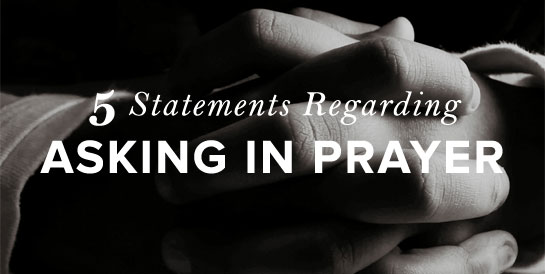 1. Who to ask―
Our Heavenly Father. "whatever you ask the Father in my name, he may give it to you" (John 15:16).
2. How to ask―
In the name of Christ. "Whatever you ask in my name, this I will do, that the Father may be glorified in the Son" (John 14:13).
In the power of the Spirit. "Likewise the Spirit helps us in our weakness. For we do not know what to pray for as we ought, but the Spirit himself intercedes for us with groanings too deep for words" (Romans 8:26). "For through him we both have access in one Spirit to the Father" (Ephesians 2:18).
In faith. "And whatever you ask in prayer, you will receive, if you have faith"" (Matthew 21:22). "But let him ask in faith, with no doubting, for the one who doubts is like a wave of the sea that is driven and tossed by the wind" (James 1:6).
3. What to ask for―
Help of the Lord. "And Judah assembled to seek help from the LORD; from all the cities of Judah they came to seek the LORD" (2 Chronicles 20:4).
Fulness of the Spirit. "If you then, who are evil, know how to give good gifts to your children, how much more will the heavenly Father give the Holy Spirit to those who ask him!" (Luke 11:13).
Fullness of joy. "Until now you have asked nothing in my name. Ask, and you will receive, that your joy may be full" (John 16:24).
Wisdom. "If any of you lacks wisdom, let him ask God, who gives generously to all without reproach, and it will be given him" (James 1:5).
Anything."If you ask me anything in my name, I will do it" (John 14:14).
4. The Condition―
Abiding in Christ. "If you abide in me, and my words abide in you, ask whatever you wish, and it will be done for you" (John 15:7). "..and whatever we ask we receive from him, because we keep his commandments and do what pleases him" (1 John 3:22).
5. Encouragements to ask―
Promise of Christ. "In that day you will ask nothing of me. Truly, truly, I say to you, whatever you ask of the Father in my name, he will give it to you" (John 16:23).
He hears us. "And this is the confidence that we have toward him, that if we ask anything according to his will he hears us. And if we know that he hears us in whatever we ask, we know that we have the requests that we have asked of him" (1 John 5:14-15).
Christ praying. "In that day you will ask in my name, and I do not say to you that I will ask the Father on your behalf;" (John 16:26).