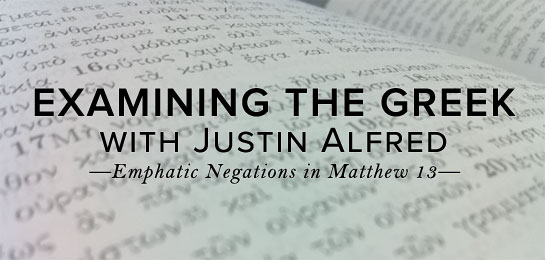 "On that day Jesus went out of the house, and was sitting by the sea. 2 And great multitudes gathered to Him, so that He got into a boat and sat down, and the whole multitude was standing on the beach. 3 And He spoke many things to them in parables, saying, "Behold, the sower went out to sow; 4 and as he sowed, some seeds fell beside the road, and the birds came and ate them up. 5 "And others fell upon the rocky places, where they did not have much soil; and immediately they sprang up, because they had no depth of soil. 6 "But when the sun had risen, they were scorched; and because they had no root, they withered away. 7 "And others fell among the thorns, and the thorns came up and choked them out. 8 "And others fell on the good soil, and yielded a crop, some a hundredfold, some sixty, and some thirty. 9 "He who has ears, let him hear." 10 And the disciples came and said to Him, "Why do You speak to them in parables?" 11 And He answered and said to them, "To you it has been granted to know the mysteries of the kingdom of heaven, but to them it has not been granted. 12 "For whoever has, to him shall more be given, and he shall have an abundance; but whoever does not have, even what he has shall be taken away from him. 13 "Therefore I speak to them in parables; because while seeing they do not see, and while hearing they do not hear, nor do they understand. 14 "And in their case the prophecy of Isaiah is being fulfilled, which says, 'You will keep on hearing, but will not understand (οὐ μὴ συνῆτε – ou mē sunēte); and you will keep on seeing, but will not perceive (οὐ μὴ ἴδητε – ou mēidēte); 15 for the heart of this people has become dull, and with their ears they scarcely hear, and they have closed their eyes lest they should see with their eyes, and hear with their ears, and understand with their heart and return, and I should heal them.' 16 "But blessed are your eyes, because they see; and your ears, because they hear. 17 "For truly I say to you, that many prophets and righteous men desired to see what you see, and did not see it; and to hear what you hear, and did not hear it."
(Matthew 13:1-17)
The Parable of the Sower
This is the Parable of the Sower as recounted by Matthew. The reason for quoting the entire passage is so you can see what Jesus is actually referring to as He quotes Isaiah 6:9-10: "You will keep on hearing, but will not understand (οὐ μὴ συνῆτε – ou mē sunēte); and you will keep on seeing, but will not perceive (οὐ μὴ ἴδητε – ou mē idēte); 15 for the heart of thispeople has become dull, and with their ears they scarcely hear, and they have closed their eyes
lest they should see with their eyes, and hear with their ears, and understand with their heart and return, and I should heal them."
Perfect Passive Verbs
In verses 18-23 of Matthew 13, Jesus goes on to explain the parable to His disciples. But prior to His explanation to them, His intention was to demonstrate to His disciples the great, spiritual darkness the Jews of Israel were in at that specific time He was with them. Indeed, upon the disciples' question as to why He was speaking in parables, He answered in verse 11 with, "To you [His disciples] it has been granted to know the mysteries of the kingdom of heaven, but to them it has not been granted." The Greek verb translated, "it has been granted," is δέδοται (dedotai), and it is a "perfect passive verb," which means it is emphasizing a completed action at some point with an ongoing and continuous state of being:
 The tense in Greek called perfect is really a present perfect. The perfect presents the action of the verb in a completed state or condition. When the action was completed the perfect tense does not tell. It is still complete at the time of the use of the tense by the speaker or writer. The perfect expresses the continuance of completed action. It is then a combination of punctiliar action and durative action. This kind of action expressed by the perfect tense is sometimes called perfective action. The perfect tense as tense is timeless. But in the indicative the time element is present. The perfect indicative generally expresses the present result of a past action. It then has to do with the past and the present.8
That means that at some point in the past, it had been determined to give to these men who were Jesus' disciples the right, privilege, and ability "to know the mysteries of the kingdom of heaven," with the ongoing result being that they, in turn, would have an eternal relationship with God and would be enabled to communicate the eternal, spiritual truths of God to a lost and dying world whom God was drawing to Jesus (John 6:44).
Stay tuned for part two as we continue this study on Matthew 13!