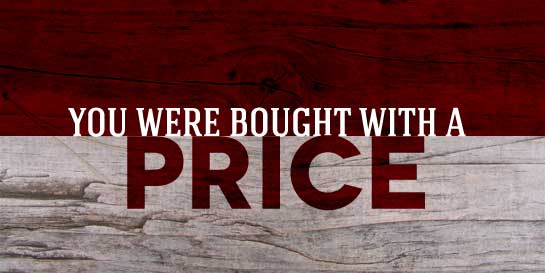 This is the second part in a three-part series. Click here to read part one.
Or do you not know that your body is a temple of the Holy Spirit within you, whom you have from God? You are not your own, for you were bought with a price. So glorify God in your body.
(1 Corinthians 6:19-20)
Now, let us pass on to the second point. From the blessed fact that you were bought with a price, we have two consequences:
You Are Not Your Own
The first is in regard to whose you are not: you are not your own. If you are bought, then you are not your own—plain and simple.
It is a great privilege not to be one's own. Do you think it would be a pleasure to be your own? Let me assure you that there is no ruler so tyrannical as self. He that is his own master, has a fool and a tyrant to be his lord. You are not your own provider, God is, just as the sheep are fed by their shepherd. You are also not your own guide, God is, just as ships are steered by their pilot. And you are not your own father; ultimately, God is.
This notion of not belong to oneself also comes with great responsibility. For example, we are not our own to injure either our bodies or our souls; we are to be good stewards of them both. We are also not to waste away in slothfulness, idleness, amusement, or speculation. Nor are we to exercise our own self-will as supreme, following our own prejudices, depraved affections, or irregular appetites. A man who is his own might say, "I will go wherever I want, and I will do whatever I want." But if I am not my own but belong to God who has bought me, then I must submit to His will. We are not free to lend our services to another master. We are not free to serve ourselves. Self is a dethroned tyrant. Jesus is a blessed husband, and we are his.
Your Body and Your Spirit Belong to God
The second consequence is in regard to Whose we are: we belong to God. The fullness of the Christian's body and spirit belong to God Himself. Christian, this is certainly a high honor to you. Your body will rise again from the dead at the first resurrection, because it is not an ordinary body, it belongs to God. Moreover, your spirit is distinguished from the souls of other men; it is God's spirit, and he has set his mark upon it, and honored you in so doing.
You are God's. Why? Because a price has been paid for you. According to some, the allusion of price here is like the dowry that was paid by a husband for his wife in ancient days. According to the Rabbis there were three ways by which a woman became the wife of a man, and one of these was by the payment of a dowry. This was always held good in Jewish law; the woman was not her own from the moment when the husband had paid to her father or natural guardian the stipulated price for her. Now, at this day, you and I rejoice that Jesus Christ has espoused us unto himself in righteousness or ever the earth was; we rejoice in that language which he uses by the prophet Hosea, "I will betroth thee unto me for ever;" but here is our comfort, the dowry money has been paid, Christ has redeemed us unto himself, and Christ's we are, Christ's for ever and ever.
We rejoice that we know we are God's because we have a beloved owner, we pursue an honored service, and we fille a blessed position—all by God's grace.  We are in Christ's keeping. Hallelujah!
---
Today's blog installment comes from the sermon notes of Charles Haddon Spurgeon (the famed "Prince of Preachers"). The full sermon can be found at the Blue Letter Bible website. It is our desire to continue providing free resources and tools such as this; if you would like to partner with us to this end, please visit this page.