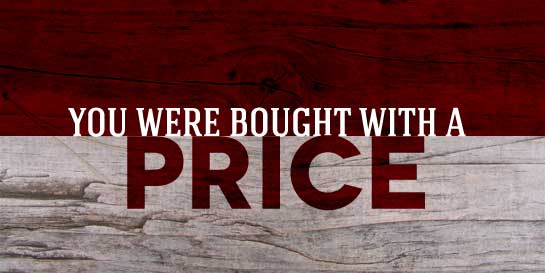 Or do you not know that your body is a temple of the Holy Spirit within you, whom you have from God? You are not your own, for you were bought with a price. So glorify God in your body.
(1 Corinthians 6:19-20)
With what ardour does the apostle pursue sin to destroy it!
He is not so prudish as to let sin alone, but cries out, in plainest language, "flee fornication." The shame is not in the rebuke, but in the sin which calls for it.
He drags it into the light of the Spirit of God. "What? Don't you know that your body is the temple of the Holy Ghost?" He slays it at the cross. "You were bought with a price." Let us consider this last argument, that we may find therein death for our sins.
You Were Bought with a Price
"You were bought…" This is that idea of redemption which modern heretics dare to style mercantile. The mercantile redemption is the Scriptural one; for the expression, "bought with a price," is a double declaration of that idea. Redemption is a greater source of obligation than creation or preservation. Hence it is a wellspring of holiness. "…with a price." This indicates the greatness of the cost. The Father gave the Son. The Son gave himself; his happiness, his glory, his repose, his body, his soul, his life. Measure the price by the bloody sweat, the desertion, the betrayal, the scourging, the cross, the heartbreak.
Our Body and Spirit = Bought With Jesus' Body and Spirit
This is either a fact or not. "You are bought," or you are unredeemed. Terrible alternative.
If a fact, it is the fact of your life. A wonder of wonders.
It will remain to you eternally the greatest of all facts. If true at all, it will never cease to be true, and it will never be outdone in importance by any other event.
It should therefore operate powerfully upon us both now and ever
---
Today's blog installment comes from the sermon notes of Charles Haddon Spurgeon (the famed "Prince of Preachers"). The full sermon can be found at the Blue Letter Bible website. It is our desire to continue providing free resources and tools such as this; if you would like to partner with us to this end, please visit this page.