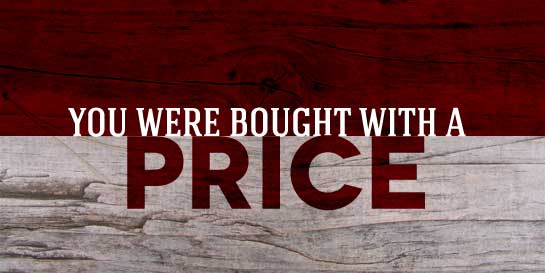 This is the third part in a three-part series. Go here for part one and here for part two.
Or do you not know that your body is a temple of the Holy Spirit within you, whom you have from God? You are not your own, for you were bought with a price. So glorify God in your body.
(1 Corinthians 6:19-20)
"So glorify God in your body"
The force of the apostle's language falls upon the "body". Perhaps this is because we are so prone to forget this truth, that the body is redeemed and is the Lord's and should be used to glorify God.
The Christian's body should glorify God by its purity. Pure as the lily should we be from every tain of uncleanness. The body should glorify God by temperance also. In all things – in eating, drinking, sleeping – in everything that has to do with the flesh. After all, "whether you eat or drink, or whatever you do, do it all to the glory of God," or as the apostle puts it elsewhere, "whatever you do in word or deed, do all in the name of the Lord Jesus, giving thanks to God and the Father by him." Furthermore, the Christian's body ought to glorify God by its work. A lazy servant is a bad Chrsitian. A working man who is always looking for Saturday night does not glorify God with his body.
The most faithful Christian is the one who is not afraid of hard wok when it is due. He works not as an eye-servant or man pleaser, but in singleness of heart seeks to glorify God. Our bodies used to work hard enough for the devil; now they belong to God, we will make them work for Him! Your legs can carry you to the theater; all the more, don't be lazy to come out on a Sunday morning to the house of God. Your eyes have been often open upon sins, keep them open during the sermon. Your ears have been sharp enough to catch the words of a song; now, let them be quick to observe the word of God. Your hands have often squandered your earnings in sinfulness; let them give freely to the cause of Christ. Your body was a willing horse when it was in the service of the devil; let it not be a sluggish hack now that it draws the chariot of Christ!
Make the tongue speak His praises, make the mouth sing of His glory, and make the whole man bow in willing subservience to the will of Him who bought it.
Therefore, glorify God—
In a suffering body by patience unto death.
In a working body by holy diligence.
In a worshipping body by bowing in prayer.
In a well-governed body of self-denial.
In an obedient body by doing the Lord's will with delight.
Lastly, O redeemed one, let me leave you with these reminders and exhortations—
You will be closely watched by Christ's enemies
You will be expected to be more gracious than others; and rightly so, since you claim to be Christ's own.
If you are not holy, the sacred name of your Redeemer, your Proprietor, and your Indweller will be compromised.
But if you live a redeemed life, your God will be honored.
Let the world see what Redemption can do.
Let the world see what sort of men "God's own" are.
---
Today's blog installment comes from the sermon notes of Charles Haddon Spurgeon (the famed "Prince of Preachers"). The full sermon can be found at the Blue Letter Bible website. It is our desire to continue providing free resources and tools such as this; if you would like to partner with us to this end, please visit this page.