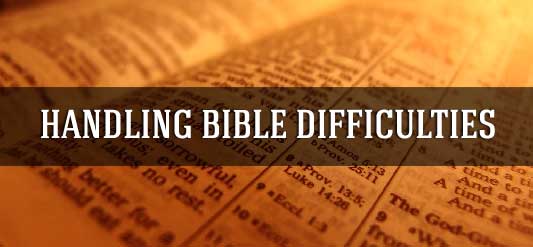 Q: How are we to handle Bible Difficulties?
Like all other ancient writings, the Holy Scriptures present many difficulties. Some of these are not easy of solution, while others may be satisfactorily explained. The existence of difficulties in such a book was to be expected, and therefore cannot be wondered at. It is a matter of astonishment, indeed, that there are not more found in it. This must be evident to any one on reflecting that "the books of Scripture were written by different persons, in almost every variety of circumstance; that they refer to people whose customs and habits were totally dissimilar to our own; that they narrate histories of which we possess no other authentic documents which might reflect light on some obscurity of expression or vagueness of description; that they were written in other languages than those in which we now possess them; and that, in addition to the mutability of language, there are the difficulties of translation out of one tongue into another."
The proper spirit in which to deal with these difficulties is, to remove them as far as practicable, and to cleave and submit to the truth, even when every cloud cannot be cleared away from it. We should imitate the example of the apostles, who, when some of the disciples were offended by what they called a "hard saying," so as to forsake Christ, silenced every objection with this: "Lord, to whom shall we go? Thou hast the words of eternal life, and we are sure that Thou art the Christ, the Son of the living God." Whenever and wherever we see an error assaulting or overlying a truth, let us destroy the error and emancipate the truth; but when we see a truth seemingly in conflict with another truth, let us try to reconcile them, and show them thus reconciled to all.
For a comprehensive list of "Bible Difficulties" and their explanations, see the Blue Letter Bible website.