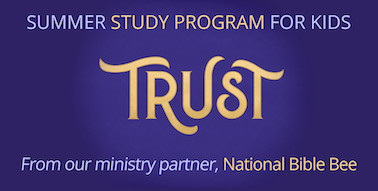 Summer Bible Study for Kids with National Bible Bee
One of our close ministry partners, National Bible Bee, is getting ready to launch their Summer Study program, and we wanted you to know about it.
You may be familiar with National Bible Bee's Scripture memorization competition. However, you may not be familiar with their 8-week Summer Study that launches kids on a journey to dive deep into the Scriptures. This summer's theme is "Trust," and it begins on June 1. The National Bible Bee's Summer Study is an absolutely wonderful program that we wholeheartedly recommend!
What is very special about the Summer Study is that National Bible Bee integrates Blue Letter Bible as the key study tool for kids to use throughout the curriculum.