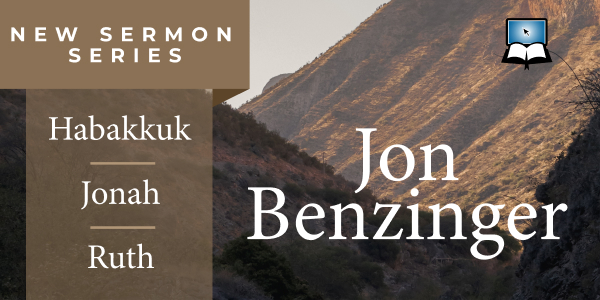 Studies in Ruth, Jonah, and Habakkuk from Jon Benzinger
Please welcome our newest content provider on Blue Letter Bible—Pastor Jon Benzinger! Jon has graciously given us his messages on Ruth, Jonah, and Habakkuk to share with our users. Within his teaching, Jon focuses on promoting a high view of God and gospel-centrality while endeavoring to clearly exegete the text. We are so blessed by this partnership and pray that God will use Jon's messages to deepen your understanding of His Word.
To start listening to Jon's messages, head over to his author page on BLB.
About Jon Benzinger
Beginning in junior high, Jon had the desire to help people with his life. Though Jon knew the truth of the gospel, he was living as if God did not exist at that time. It was not until the age of 18 that God saved him. After that, Jon's desire to help people continued and ultimately led to pastoral ministry and training at Vanguard University, Trinity Law & Graduate School, and The Master's Seminary.
Jon eventually moved from Southern California to Arizona in 2011. He worked as a high jump coach, custodian, college professor, young adults pastor, and high school Bible teacher for four years. And then, in March 2015, he accepted the call to lead Redeemer Bible Church as its lead pastor. He and his wife Katie have four sweet kids—Colin, Ava, Emma, and Jace—and a golden retriever named Riley.