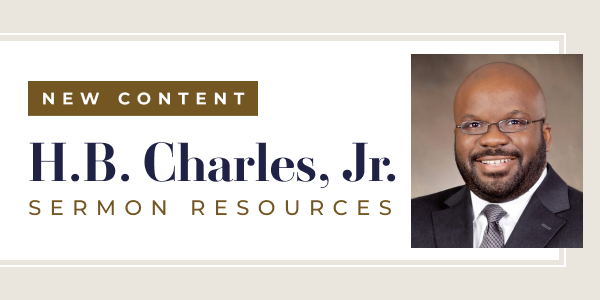 New Sermons and Articles from Pastor H.B. Charles, Jr.
Blue Letter Bible is pleased to announce a new partnership with Pastor H.B. Charles, Jr. through the addition of several new textual study resources including teaching manuscripts, articles, and sermon skeletons covering a broad range of Bible passages and topics.
Over the years, we have received feedback from many Christian leaders asking if we have any materials on pastoral resources and sermon preparation. Our newest author, Pastor H.B. Charles, Jr., has provided an absolute wealth of study materials covering key areas of pastoral leadership and Bible-centered teaching through his articles.  Having pastored and taught since the age of 17, Pastor Charles brings a depth of biblical insight that we hope will be a blessing to Christian leaders, teachers, and students around the world.
We pray that these study resources greatly enhance your understanding of Scripture. To start reading Pastor Charles's works, you can head over to his author page on BLB. If you want to know more about him and his ministry, you can go to his website, Cutting It Straight.
About H.B. Charles, Jr.
H.B. Charles, Jr. is the Pastor-Teacher at the Shiloh Metropolitan Baptist Church of Jacksonville and Orange Park, Florida. He does preaching-teaching, vision casting, and leadership development.
Prior to joining the Shiloh Church, he led the Mt. Sinai Missionary Baptist Church of Los Angeles for almost eighteen years. Succeeding his late father, he began his pastorate at Mt. Sinai at the age of seventeen – a senior in high school.
He regularly speaks at churches, conferences, and conventions around the country.