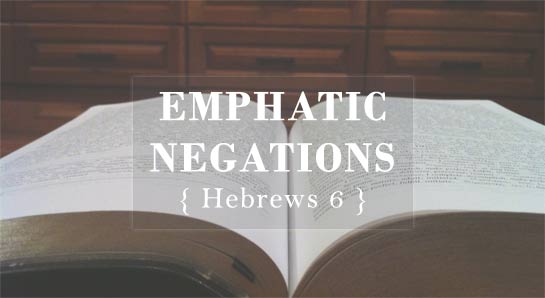 If you are joining us for the first time, please be sure to read the previous posts in this series:
---
One of the most important aspects of our walk with the Lord is denying ourselves, taking up our crosses daily, and following the Lord Jesus Christ (Luke 9:23-24). That is what it means to be a disciple of Jesus; it is denial of self and placing Jesus first in our lives, which is quite frequently reflected in ministering to others without any notice among men that we are doing it. In fact, Jesus says as much in the following passage:
Take heed that you do not do your charitable deeds before men, to be seen by them. Otherwise you have no reward from your Father in heaven. 2 "Therefore, when you do a charitable deed, do not sound a trumpet before you as the hypocrites do in the synagogues and in the streets, that they may have glory from men. Assuredly, I say to you, they have their reward. 3 "But when you do a charitable deed, do not let your left hand know what your right hand is doing, 4 "that your charitable deed may be in secret; and your Father who sees in secret will Himself reward you openly.
(Matthew 6:1-4)
The word for "secret" in the Greek is κρυπτός (kryptos), and from this word is derived the English word "crypt," which is a "grave." Thus, what Jesus is saying is that we as believers need to do our ministry to others, in whatever form it may take, as though we were in a "grave," and the Lord who sees in the "grave will Himself reward you openly." What a wonderful promise, and indeed, as we grow in Christ, we begin to continually learn that our lives are not about ourselves, but rather our lives are all about Jesus, and what John the Baptist said about the focus being on Jesus, versus on ourselves, is absolutely true: "He must increase, but I must decrease" (John 3:30). Interestingly, a more amplified translation of this verse would be, "He must continually increase, but I must choose to continually diminish myself."
Thus, as we grow in Christ, we realize, as we continue to die to our own narcissistic self-centeredness and insecurity, that our lives are all about Jesus being seen, not us being seen for the sake of our egotistical self, and a very essential aspect of that realization and growth is found in these verses:
Therefore if there is any consolation in Christ, if any comfort of love, if any fellowship of the Spirit, if any affection and mercy, 2 fulfill my joy by being like-minded, having the same love, being of one accord, of one mind. 3 Let nothing be done through selfish ambition or conceit, but in lowliness of mind let each esteem others better than himself. 4 Let each of you look out not only for his own interests, but also for the interests of others. 5 Let this mind be in you which was also in Christ Jesus, 6 who, being in the form of God, did not consider it robbery to be equal with God, 7 but made Himself of no reputation, taking the form of a bondservant, and coming in the likeness of men.
(Philippians 2:1-8)
Therefore, the above words I have highlighted are indeed in spiritual synchronization with Hebrews 6:10, and without question, our "ministering to the saints" is indeed a reflection of the eternal life we have received in Christ because it is Jesus ministering in and through us to others: "I have been crucified with Christ; and it is no longer I who live, but Christ lives in me; and the life which I now live in the flesh I live by faith in the Son of God, who loved me, and delivered Himself up for me" (Galatians 2:20).
As a summation of Hebrews 6:9-10, the author of Hebrews then writes the following in verses 11-12: "And we desire that each one of you show the same diligence so as to realize the full assurance of hope until the end, 12 that you may not be sluggish, but imitators of those who through faith and patience inherit the promises." A more amplified translation of this patience would read, therefore: "And we continually desire that each of you continue to choose to demonstrate the same diligence and willingness that affirms and confirms the full assurance of the assured conviction of God's promises to you from His Word until the end, in order that you all might not be sluggish and lazy on a day by day basis in your walk with and serving the Lord, but rather imitators of those who through faith, endurance, steadfastness, and patience are continually inheriting, possessing, attaining and acquiring the fulfillment of God's promises to us through His Word."
In other words, we once again see that God's promises are already ours in Christ, and it is a day by day choice we make to either embrace those promises through the faith and endurance He has imparted to us in His Word, through the power of His indwelling Holy Spirit, as we face discouragement, disappointment, disillusionment, distractions, and heartaches of all types and sizes, or whether we choose to give in, on a day by day basis, to our narcissistic bitterness and self-pity because of the discouragement, disappointment, disillusionment, distractions, and heartaches of all types and sizes that we face, and such self-pity and bitterness results in "laziness." The choice, therefore, is ours, and in making that choice as a born again believer in Jesus Christ, we will either become the fourth soil described in Luke 8:15 that bears "fruit with perseverance," or we will be as the third soil in Luke 8:14 that is "choked with worries and riches and pleasures of this life, and bring no fruit to maturity."
I have discovered that as believers in Jesus Christ, it is when we come to the end of ourselves in trusting in and relying upon our own strength and power, in which we will ultimately fail, and we fall prostrate before the Lord, wholly and fully trusting in Him and His power, that we are then truly empowered, by His indwelling Holy Spirit, to walk in the unending power of our risen Lord and Savior, but coming to that end can be quite painful as Paul writes:
But we have this treasure in earthen vessels, that the surpassing greatness of the power may be of God and not from ourselves; 8 we are afflicted in every way, but not crushed; perplexed, but not despairing; 9 persecuted, but not forsaken; struck down, but not destroyed; 10 always carrying about in the body the dying of Jesus, that the life of Jesus also may be manifested in our body. 11 For we who live are constantly being delivered over to death for Jesus' sake, that the life of Jesus also may be manifested in our mortal flesh.
(II Corinthians 4:7-11)
Therefore, may each of us who is a believer in Jesus Christ begin to choose, day by day, to walk in Luke 9:23-24, and as we do, then we will truly begin to realize the "abundant life" (John 10:10) that Jesus came to give us: "And He was saying to them all, "If anyone wishes to come after Me, let him deny himself, and take up his cross daily, and follow Me. 24 'For whoever wishes to save his life shall lose it, but whoever loses his life for My sake, he is the one who will save it' (Luke 9:23-24).