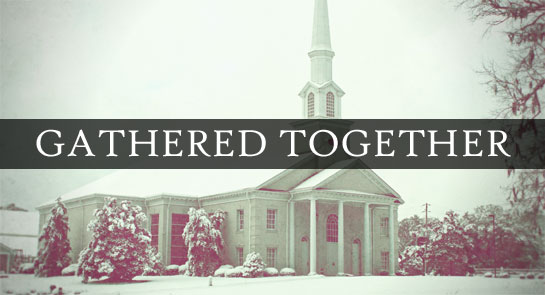 THE "Gathered togethers" of Scripture are associated with the fellowship of God's saints.
Gathered together in sorrow
"And they rose up the same hour, and returned to Jerusalem, and found the eleven gathered together " (Luke 24:33). This is when the disciples were gathered together after the crucifixion of Christ.
Gathered together for worship
"For where two or three are gathered together in my name, there am I in the midst of them" (Matthew 18:20).
Gathered together for discipline
"When you are assembled in the name of the Lord Jesus and my spirit is present, with the power of our Lord Jesus, you are to deliver this man to Satan for the destruction of the flesh, so that his spirit may be saved in the day of the Lord." (1 Corinthians 5:4).
Gathered together for testimony
"And when they arrived and gathered the church together, they declared all that God had done with them, and how he had opened a door of faith to the Gentiles" (Acts 14:27).
Gathered together in service
"When the seventh month came, and the children of Israel were in the towns, the people gathered as one man to Jerusalem" (Ezra. 3:1)"And all the people gathered as one man into the square before the Water Gate. And they told Ezra the scribe to bring the Book of the Law of Moses that the LORD had commanded Israel" (Nehemiah 8:1).
Gathered together for prayer
"And Judah assembled to seek help from the LORD; from all the cities of Judah they came to seek the LORD" (2 Chronicles 20:4)."When he realized this, he went to the house of Mary, the mother of John whose other name was Mark, where many were gathered together and were praying" (Acts 12:12).
Gathered together in glory
"Therefore the wicked will not stand in the judgment, nor sinners in the congregation of the righteous" (Psalm l:5)."Now concerning the coming of our Lord Jesus Christ and our being gathered together to him, we ask you, brothers" (2 Thessalonians 2:1).
How about you? What would you add to this list?
---
Compiled from the commentaries of F.E. March—coming soon to the Blue Letter Bible website. It is our desire to continue providing free resources, commentaries, tools, etc. Please consider joining us through prayer or provision. For more info, please visit us here.