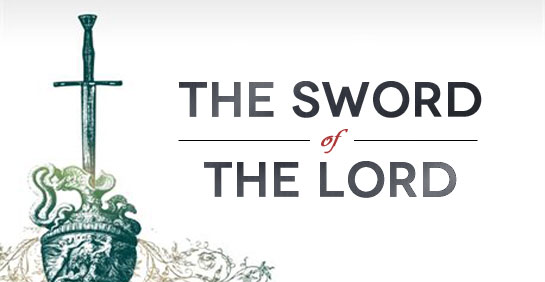 For the word of God is living and active, sharper than any two-edged sword, piercing to the division of soul and of spirit, of joints and of marrow, and discerning the thoughts and intentions of the heart. And no creature is hidden from his sight, but all are naked and exposed to the eyes of him to whom we must give account.
(Hebrews 4:12-13)
God's Word has diagnosed our illness with a surgeon's precision. It has seen our hearts, and discerned that we are too ready to follow in the failure of the children of Israel, to give up belief. When the word of God exposes our weakness and unbelief like this, it demonstrates the inherent power, sharpness, and accuracy of the word of God. It bears constant reminding that as we submit ourselves to the word of God, we do it for far, far more than intellectual knowledge of the learning of facts. We do it for the ministry of the Word, because God meets us in His Word, and the Holy Spirit works powerfully through the word of God.
Here at the Blue Letter Bible, we care about the word of God—a lot. (You probably already knew that!) Hebrews 4:12-13 is one of my favorite passages about the word of God. And when observed under the light of other Scriptures, its piercing Biblical truths shine even brighter! Consider:
When the word of God is heard and understood, it bears fruit. (Matthew 13:23)
The word of God has inherent power and authority against demonic powers. (Luke 4:36)
Jesus Himself – His eternal person – is described as the Word. When we are into the Word of God, we are into Jesus. (John 1:1)
Hearing God's Word is essential to eternal life – you cannot pass from death into life unless you have heard the Word of God. (John 5:24; James 1:21; 1 Peter 1:23)
Abiding – living in – God's Word is evidence of true discipleship. (John 8:31)
God's Word is the means to sanctification. (John 17:17)
God can do dramatic works with the Holy Spirit as His Word is being preached. (Acts 10:44)
Hearing God's Word builds faith in us. (Romans 10:17)
Holding fast to the Word of God can give us present assurance of salvation. (1 Corinthians 15:2)
The faithful handling of the Word of God gives the ministers of the Word a clear conscience – they know that they have done all they can before God. (2 Corinthians 4:2; Philippians 2:16)
The Word of God is our sword of the Spirit – it is our equipment for spiritual battle, especially in the idea of an offensive weapon. (Ephesians 6:17)
---
Today's blog installment was crafted using notes from David Guzik's commentary on Hebrews 4. The Blue Letter Bible offers several great commentaries to aid your Bible study. Please consider joining us in our efforts to keep serving God's people with great resources.