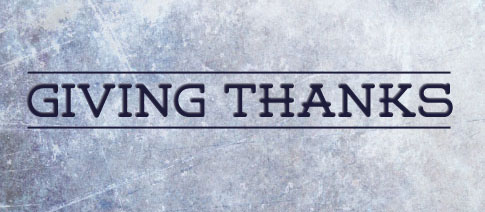 Rejoice always, pray without ceasing, give thanks in all circumstances; for this is the will of God in Christ Jesus for you.
(1 Thessalonians 5:16-18)
Today, those of us in the U.S. are celebrating Thanksgiving Day. It as age-old tradition of giving thanks to God for His countless evidences of grace in our lives.
Thanks to God
As a ministry, we want to take this as an opportunity to thank God for the many ways He has blessed us this year. By His grace, we have the privilege of using the to spread His word to online users all around the world—over 1 million times a day!
God has also provided us with many new resources to offer through the Blue Letter Bible, including a new and updated iOS app for Apple devices, women's ministry resources, and the new Blue Letter Bible blog. Thank you, Lord, for all that you've done!
Thanks to our users
We also want to take this moment to thank you, the users of the Blue Letter Bible. During this past year we had over 6,300,000 unique visitors use the website. Because of you and your desire to read and study God's word that we labor each week to develop new tools and resources for the faithful study of God's word.
Thanks to our partners
We want to thank all of our users who donated and partnered with us in our endeavor to keep the BLB ad-free. Since October 2010, 2,613 BLB users have donated a combined total of $144,232. This is far short of the goal we placed to raise $1.5 million dollars.
Note: If you'd like to give to share a gift—large or small—we would greatly appreciate it. Our heart is that we do not want you to be distracted by advertisements or banners. If you'd like to consider partnering with us with prayer or finances, please click here.
All glory to God
And of course, just as we began with God, let us also end with Him, for every "good gift and every perfect gift is from above, coming down from the Father of lights." Today, let us rejoice, pray, and give thanks to our Father. May all glory and honor go to Him.
Amen.