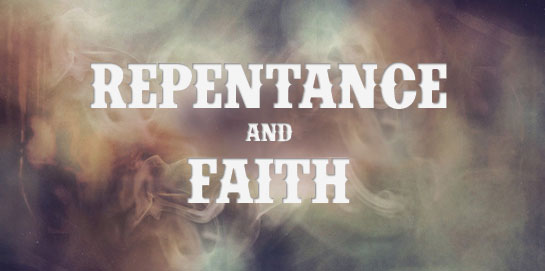 And when they came to him, he said to them:
"You yourselves know how I lived among you the whole time from the first day that I set foot in Asia, serving the Lord with all humility and with tears and with trials that happened to me through the plots of the Jews; how I did not shrink from declaring to you anything that was profitable, and teaching you in public and from house to house, testifying both to Jews and to Greeks of repentance toward God and of faith in our Lord Jesus Christ
(Acts 20:18-21)
Repentance and faith go hand in hand. Where one is found, so is the other. To turn from sin and trust in Jesus is to exercise repentance and faith, respectively.
What is repentance?
Repentance, or μετάνοια (metanoia), means a change of mind, as it appears to one who repents, of a purpose he has formed or of something he has done. In other words, it is to turn around and change directions. When we repent from sin, we turn away from it. As I've heard it once said, the things we once loved we now begin to hate and the God we once hated we now begin to love.
Repentance is more than just turning from something; it is also turning to something else. It's about having a new nature which draws you in the opposite direction. Scripture speaks of turning from Satan, sin, and darkness. But repentance also involves turning toward God, life, and holiness. Furthermore, the Christian does not only experience a single moment of repentance, he lives a continuous life of repentance from sin and toward God (Acts 26:18).
What is faith?
Faith is closely tied to repentance. When we turn from sin and toward God, we have faith that God is better than sin and that Christ is to be supremely treasured above all. When we exercise faith, we trust in God and in the finished work of Jesus Christ—his death, resurrection, ascension on high.
In the life of faith and repentance, the Christian places his faith in Jesus, not in himself—man and his works. It is a gift of God:
"For by grace you have been saved through faith. And this is not your own doing; it is the gift of God, not a result of works, so that no one may boast. For we are his workmanship, created in Christ Jesus for good works, which God prepared beforehand, that we should walk in them."
(Ephesians 2:8-10)
Real faith is a gift. It is not mustered up; it is given. And as Ephesians 2 implies, this gift of faith has two effects: 1) humility, and 2) walking in good works. A life of faith leads to turning from any and all boasting. It also leads to walking in a life of holiness and service. In Jesus, we now live for God and the supremacy of His glory. This life of repentance is lived in faith—faith in the secured victory that we have been given in Jesus Christ, our great God and Savior.