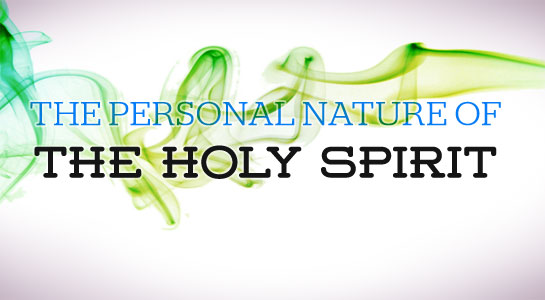 Francis Chan once noted that:
We are not all we were made to be when everything in our lives and churches can be explained apart from the work and presence of the Spirit of God….shouldn't there be a huge difference between the person who has the Spirit of God living inside of him or her and the person who does not?
There certainly should be.
It's important to remember that God the Holy Spirit is not some apathetic entity who just floats in the sky. The Holy Spirit actually resides in us and helps us throughout our Christian pilgrimage in a very immanent and personal way.
Let's go through a few examples in Scripture.
The Holy Spirit is:*
…the Personal Comforter for fellowship:
John 14:16
"And I will ask the Father, and he will give you another Helper, to be with you forever"
…the Personal Companion to know:
John 14:17
"even the Spirit of truth, whom the world cannot receive, because it neither sees him nor knows him. You know him, for he dwells with you and will be in you."
…the Personal Teacher to instruct:
John 14:26
"But the Helper, the Holy Spirit, whom the Father will send in my name, he will teach you all things and bring to your remembrance all that I have said to you."
…the Personal Witness to testify:
John 15:27
"But when the Helper comes, whom I will send to you from the Father, the Spirit of truth, who proceeds from the Father, he will bear witness about me. And you also will bear witness, because you have been with me from the beginning."
…the Personal Ambassador to represent:
John 16:7
"Nevertheless, I tell you the truth: it is to your advantage that I go away, for if I do not go away, the Helper will not come to you. But if I go, I will send him to you."
…the Personal Reprover to convict:
John 16:8
"And when he comes, he will convict the world concerning sin and righteousness and judgment:"
…the Personal Guide and Revealer to direct and unfold:
John 16:13
"When the Spirit of truth comes, he will guide you into all the truth, for he will not speak on his own authority, but whatever he hears he will speak, and he will declare to you the things that are to come."
…the Personal Declarer of the supremacy of Jesus Christ.
John 16:14
"He will glorify me, for he will take what is mine and declare it to you."
*this list is adapted from the notes of F.E. Marsh (coming soon to the BLB commentaries).
---
Recommended Resources from the bookstore: Forgotten God: Reversing Our Tragic Neglect of the Holy Spirit