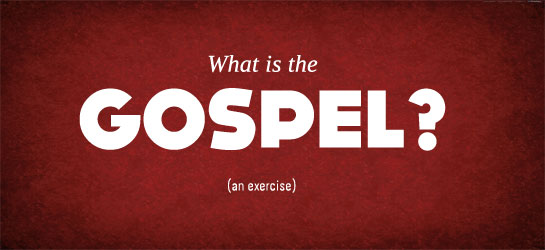 "Now I would remind you, brothers, of the gospel I preached to you, which you received, in which you stand,  and by which you are being saved, if you hold fast to the word I preached to you—unless you believed in vain.
For I delivered to you as of first importance what I also received: that Christ died for our sins in accordance with the Scriptures, that he was buried, that he was raised on the third day in accordance with the Scriptures, and that he appeared to Cephas, then to the twelve. Then he appeared to more than five hundred brothers at one time, most of whom are still alive, though some have fallen asleep. Then he appeared to James, then to all the apostles. Last of all, as to one untimely born, he appeared also to me."
—1 Corinthians 15:1-8
For this morning's staff devotional at the Blue Letter Bible offices, we went around the table and answered the question:
What is the gospel of Jesus Christ?
…and we were required to use words that begin with each letter in the word gospel. It was a helpful exercise for it got us to ruminate on the rich truths of the gospel and discuss them in a way that would be memorable. Here's what I came up with:
God's good news of His glorious grace
Offered in Jesus Christ for victory over
Satan, sin, and the sting of death through
Payment of His own life—in the place of
Every believer—that we might have
Life and joy everlasting.
Someone else came up with:
GOSPEL = By Grace my Omnibenevolent Savior is Preparing a place for me to spend Eternal Life!
The exercise reminded me of a video I saw a few months ago by the artist Propaganda:
http://vimeo.com/20960385
What about you? How would you describe the gospel with this exercise?