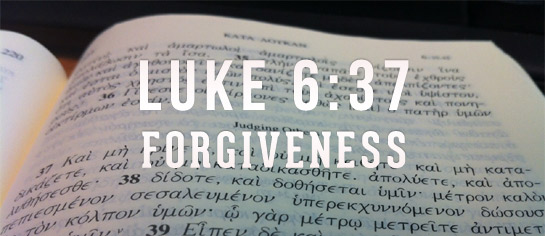 "And do not judge and you will not be judged (οὐ μὴ κριθῆτε – ou mē krithēte); and do not condemn, and you will not be condemned (οὐ μὴ καταδικασθῆτε – ou mē katadikasthēte); pardon, and you will be pardoned."
(Luke 6:37)

An important reality check
This is a very important passage. It goes to the core of our interpersonal relations with others, and it has to do with the ABSOLUTE REALITY of the fact that we are all corrupt, flawed, and share the very same depraved and fallen nature.
However, just as important is the fact that we, indeed, are called on by Jesus to make judgments about others. Now, the what is essential in our judgments of others are the attitudes we have and the approaches we take in making those judgements:
And if your brother sins, go and reprove him in private; if he listens to you, you have won your brother. 16 "But if he does not listen to you, take one or two more with you, so that by the mouth of two or three witnesses every fact may be confirmed. 17 "And if he refuses to listen to them, tell it to the church; and if he refuses to listen even to the church, let him be to you as a Gentile and a tax-gatherer. 18 "Truly I say to you, whatever you shall bind on earth shall be bound in heaven; and whatever you loose on earth shall be loosed in heaven.
(Matthew 18:15-18)
Grace, mercy, and judgment
What Jesus is presenting to us here is the method of grace and mercy that is to be extended to someone who has "sinned" who professes to be a "brother" in Christ, and which would also be true for a professing "sister" in Christ.  Thus, there are three distinct steps to be taken whereby grace and mercy are extended to the guilty and fallen, professing believer: reproof in private, reproof before a few, and reproof before the church.  If after the matter is presented to the church, which is the third step, and he or she is still unrepentant over their sin, then they are to be summarily excluded from the fellowship.
Paul also presents a similar situation with the young man who was sleeping with his step-mother:
It is actually reported that there is immorality among you, and immorality of such a kind as does not exist even among the Gentiles, that someone has his father's wife. 2 And you have become arrogant, and have not mourned instead, in order that the one who had done this deed might be removed from your midst. 3 For I, on my part, though absent in body but present in spirit, have already judged him who has so committed this, as though I were present. 4 In the name of our Lord Jesus, when you are assembled, and I with you in spirit, with the power of our Lord Jesus, 5 I have decided to deliver such a one to Satan for the destruction of his flesh, that his spirit may be saved in the day of the Lord Jesus. 6 Your boasting is not good. Do you not know that a little leaven leavens the whole lump of dough? 7 Clean out the old leaven, that you may be a new lump, just as you are in fact unleavened. For Christ our Passover also has been sacrificed. 8 Let us therefore celebrate the feast, not with old leaven, nor with the leaven of malice and wickedness, but with the unleavened bread of sincerity and truth. 9 I wrote you in my letter not to associate with immoral people; 10 I did not at all mean with the immoral people of this world, or with the covetous and swindlers, or with idolaters; for then you would have to go out of the world. 11 But actually, I wrote to you not to associate with any so-called brother if he should be an immoral person, or covetous, or an idolater, or a reviler, or a drunkard, or a swindler—not even to eat with such a one. 12 For what have I to do with judging outsiders? Do you not judge those who are within the church? 13 But those who are outside, God judges. Remove the wicked man from among yourselves. (I Corinthians 5:1-13)
 Indeed, Paul is exhorting the Corinthian believers to address this situation the same as Jesus directed above, and it may be assumed that Paul believes this gentleman is a born again believer based on his statement in verses 4 & 5, but apparently the gentleman was unrepentant after being confronted with his exposed sin: "In the name of our Lord Jesus, when you are assembled, and I with you in spirit, with the power of our Lord Jesus, 5 I have decided to deliver such a one to Satan for the destruction of his flesh, that his spirit may be saved in the day of the Lord Jesus."
The grace of repentance
Thus, Paul's desire was for this gentleman to come to a place of genuine brokenness and repentance over his sin, and this would be accomplished through Satan's "destruction of his flesh."  Through such "destruction," therefore, he would either truly come to Christ for the first time and be born again, or, if already a believer, he would seek true repentance and brokenness through God's "discipline," resulting in God's "holiness" and His "peaceful fruit of righteousness" in his life as is described in the following passage:
You have not yet resisted to the point of shedding blood in your striving against sin; 5 and you have forgotten the exhortation which is addressed to you as sons, "My son, do not regard lightly the discipline of the Lord, Nor faint when you are reproved by Him; 6 For those whom the Lord loves He disciplines, And He scourges every son whom He receives." 7 It is for discipline that you endure; God deals with you as with sons; for what son is there whom his father does not discipline? 8 But if you are without discipline, of which all have become partakers, then you are illegitimate children and not sons. 9 Furthermore, we had earthly fathers to discipline us, and we respected them; shall we not much rather be subject to the Father of spirits, and live? 10 For they disciplined us for a short time as seemed best to them, but He disciplines us for our good, that we may share His holiness. 11 All discipline for the moment seems not to be joyful, but sorrowful; yet to those who have been trained by it, afterwards it yields the peaceful fruit of righteousness.
(Hebrews 12:4-11)
What is significant, therefore, concerning this man in I Corinthians 5 is that in II Corinthians 2:1-11, we see that he was indeed deeply broken over his sin and returned to the fellowship in genuine brokenness and repentance:
But I determined this for my own sake, that I would not come to you in sorrow again. 2 For if I cause you sorrow, who then makes me glad but the one whom I made sorrowful? 3 And this is the very thing I wrote you, lest, when I came, I should have sorrow from those who ought to make me rejoice; having confidence in you all, that my joy would be the joy of you all. 4 For out of much affliction and anguish of heart I wrote to you with many tears; not that you should be made sorrowful, but that you might know the love which I have especially for you. 5 But if any has caused sorrow, he has caused sorrow not to me, but in some degree– in order not to say too much– to all of you. 6 Sufficient for such a one is this punishment which was inflicted by the majority, 7 so that on the contrary you should rather forgive and comfort him, lest somehow such a one be overwhelmed by excessive sorrow. 8 Wherefore I urge you to reaffirm your love for him. 9 For to this end also I wrote that I might put you to the test, whether you are obedient in all things. 10 But whom you forgive anything, I forgive also; for indeed what I have forgiven, if I have forgiven anything, I did it for your sakes in the presence of Christ, 11 in order that no advantage be taken of us by Satan; for we are not ignorant of his schemes.
(II Corinthians 2:1-11)
What we see from the above, therefore, is that Jesus and Paul are admonishing restoration of a fallen individual, who, contextually in both examples in Matthew 18 and I Corinthians 5, is presented as being a fellow believer.  And once again, if he or she is not a believer, then the ultimate desire is that they will come to saving faith in Jesus; if they are a true believer, then the ultimate desire is that they will return to a surrendered state of their life being under the Lordship of Jesus and walking in His "holiness" and "peaceful fruit of righteousness" in their lives.
Our attitude matters
In coming full circle, therefore, back to our original passage in Luke 6:37 about not "judging" and not "condemning," we see that this has to do with our attitude whenever we pass or speak judgment against someone else, and this is seen quite clearly in the following passage of Paul's exhortation to the Galatians:
 Brethren, even if a man is caught in any trespass, you who are spiritual, restore such a one in a spirit of gentleness; each one looking to yourself, lest you too be tempted. 2 Bear one another's burdens, and thus fulfill the law of Christ. 3 For if anyone thinks he is something when he is nothing, he deceives himself. 4 But let each one examine his own work, and then he will have reason forboasting in regard to himself alone, and not in regard to another. 5 For each one shall bear his own load.
(Galatians 6:1-5)
We are sinners in need of grace helping sinners in need of grace
The important thing to remember, regardless if one is a believer in Jesus Christ or a non-believer, is that we are all corrupt to the core, and the only GOOD that believers possess is the righteousness of Jesus abiding in us through His indwelling Holy Spirit, versus our corrupt and depraved carnal nature that rules and condemns us apart from Christ.  Thus, as believers in Jesus Christ, we are capable of doing the very same things we did when we were non-believers, or we may perhaps commit egregious sins that we knowingly did not engage in before coming to Christ.  One of the best and saddest examples of the sins that we as believers can commit is found with King David, who not only committed adultery and impregnated another man's wife, but he was also complicit in the death of that woman's husband, as well as others of his soldiers in perpetrating this man's death (II Samuel 11).  However, unlike Saul who continually blamed his sin on others—Saul was the quintessential "victim"—David took responsibility for his sin, repented, was broken over it, and confessed and turned from it (II Samuel 12:1-25; Psalm 51). The result of David's genuine brokenness and repentance is reflected in the following passage:
 Now in the eighteenth year of King Jeroboam, the son of Nebat, Abijam became king over Judah. 2 He reigned three years in Jerusalem; and his mother's name was Maacah the daughter of Abishalom. 3 And he walked in all the sins of his father which he had committed before him; and his heart was not wholly devoted to the LORD his God, like the heart of his father David. 4 But for David's sake the LORD his God gave him a lamp in Jerusalem, to raise up his son after him and to establish Jerusalem; 5 because David did what was right in the sight of the LORD, and had not turned aside from anything that He commanded him all the days of his life, except in the case of Uriah the Hittite.
(I Kings 15:1-5)
Self-righteous vs. Grace-driven
The point to be made in all of this is that if we "judge" and "condemn" others in a self-righteous manner, it is literally like one pig calling another pig "a pig!"  On the other hand, if we walk in Galatians 6:1-5 above in our attitude toward others, then, as Jesus stated in Luke 6:37, "we will unequivocally not be judged or condemned" because we will first of all be judging ourselves as Paul exhorts us to in Galatians 6:1: "Brethren, even if a man is caught in any trespass, you who are spiritual, restore such a one in a spirit of gentleness; each one looking to yourself, lest you too be tempted."
Forgiving my daughter's murderer
In my own personal life, God has made Luke 6:37 real to me many times over.  When I forgave my father many years ago, it set me free from the self-destructive poison of anger and bitterness that, unbeknownst to me, was adversely affecting my life for years in ways I was completely blind to as a believer in Jesus Christ.  From that point forward, God began to move me from seeing myself as a "victim" to seeing myself as a "perpetrator," and that in turn began to move and set me free from the emotional addiction of self-pity.
Thus, when my 19 year old daughter was killed six years ago by a young man who absolutely destroyed her life in every way, had it not been for the fact that years before that, God had made real to me my own sin and the depth of His grace and forgiveness in my life, I would have taken the law into my own hands and eliminated this person from the earth who killed my daughter.
However, as I agonized over her death the following week after her murder, I kept quoting Romans 12:19, which says: "Never take your own revenge, beloved, but leave room for the wrath of God, for it is written, 'Vengeance is Mine, I will repay,' says the Lord" (Romans 12:19).
One morning that week, as I lay in bed praying, the Lord spoke to my mind the following words: "As My grace, love and mercy are perfect, pure, holy, and complete, so too is My wrath and vengeance perfect, pure, holy, and complete, but your wrath and vengeance is imperfect, impure, unholy, and incomplete."  When the Holy Spirit spoke these words to my heart about "my wrath and vengeance" being "incomplete," I saw as clearly as I have ever seen that Satan's trap is to draw us who are believers into the lust of "vengeance."  If we as believers then begin to pursue that lust of "vengeance," the "abundant life" that Christ came to give us will be replaced with the continual pain and self-destruction of bitterness, anger, and self-pity.  These unchecked emotions are in turn an unequivocal key to robbing us of His promised "abundant life": "The thief (i.e., Satan – my note) comes only to steal, and kill, and destroy; I (i.e., Jesus – my note) came that they might have life, and might have it abundantly" (John 10:10).  Thus, what the Lord spoke to me that morning set me free.  In addition, the Holy Spirit brought to my mind the following passages that continue to set me free every day of my life:
 You have heard that it was said,`You shall love your neighbor and hate your enemy.' 44 "But I say to you, love your enemies, bless those who curse you, do good to those who hate you, and pray for those who spitefully use you and persecute you, 45 "that you may be sons of your Father in heaven; for He makes His sun rise on the evil and on the good, and sends rain on the just and on the unjust. 46 "For if you love those who love you, what reward have you? Do not even the tax collectors do the same? 47 "And if you greet your brethren only, what do you do more than others? Do not even the tax collectors do so? 48 "Therefore you shall be perfect, just as your Father in heaven is perfect.
(Matthew 5:43-48)
 O LORD, lead me in Thy righteousness because of my foes; make Thy way straight before me. 9 There is nothing reliable in what they say; their inward part is destruction itself; their throat is an open grave; they flatter with their tongue. 10 Hold them guilty, O God; by their own devices let them fall! In the multitude of their transgressions thrust them out, for they are rebellious against Thee.
(Psalm 5:8-10)
 Contend, O LORD, with those who contend with me; fight against those who fight against me. 2 Take hold of buckler and shield, and rise up for my help. 3 Draw also the spear and the battle-axe to meet those who pursue me; say to my soul, "I am your salvation." 4 Let those be ashamed and dishonored who seek my life; let those be turned back and humiliated who devise evil against me. 5 Let them be like chaff before the wind, with the angel of the LORD driving them on. 6 Let their way be dark and slippery, with the angel of the LORD pursuing them. 7 For without cause they hid their net for me; without cause they dug a pit for my soul. 8 Let destruction come upon him unawares; and let the net which he hid catch himself; into that very destruction let him fall.
(Psalm 35:1-8)
My prayer for the guilty
What God spoke to my heart, therefore, was to pray in the following manner:
I bless and pray for the person who killed my daughter and have great mercy on him, O Lord, as You have had great mercy on me and all my sins.  However, if he refuses your grace and mercy and persists in his own rebellion, evil, lies, and deceit, then You be the one, O Lord, to cause him to fall by his own devices, and the very pit he has dug for others, O Lord, You let him fall into that same "pit" of "destruction."  Thus, O Lord, I pray for your "perfect and complete grace and mercy in his life, and your perfect and complete wrath and vengeance if there is no repentance." 
In other words, I pray for God's grace and mercy toward this individual who killed my daughter that he might come to true and genuine saving faith in Jesus.  On the other hand, if he doesn't repent and truly turn to Christ as His only Lord and Savior, I then leave the judgment and wrath due him to God alone in whatever way and time God will choose to execute "His wrath and judgment" against him, and God will indeed do that to any and all who refuse genuine repentance and true faith in Christ.
There is freedom in forgiveness
This, therefore, is the place of freedom and peace where God has brought me, and this is how I pursue it: I first of all see my own sin and failures and the depth of His grace and mercy toward me; then secondly, I assiduously judge myself according to Galatians 6:1 in order that I do not incur the consequences of judging and condemning others for the very things that I, too, am guilty of.  These are things I can be blinded to in my life through the deception and narcissism of my own self-righteousness.
Consequently, as believers in Jesus Christ, the result of taking these important steps before we make some self-righteous and self-destructive judgment and condemnation of others is that we "will unequivocally not be judged (οὐ μὴ κριθῆτε – ou mē krithēte)" and we "will unequivocally not be condemned (οὐ μὴ καταδικασθῆτε – ou mēkatadikasthēte)." In other words, we will not reap the consequences of our blind, self-righteous narcissism, and as we "pardon," so too will we "be pardoned."
The word for "pardon" in the Greek is ἀπολύω (apoluō), which means "to release, pardon, let go, send away, and dismiss."  Thus, as we "release, let go of, send away, and dismiss" our anger, judgment, bitterness, or whatever other types of judgments we are tempted to inveigh against others, and as we in turn bless these people as Jesus tells us to in Matthew 5:44, giving them over to God's "mercy," as well as His "wrath and judgment," then we will indeed begin to be set free from the tyranny of our own self-righteous blindness and experience the peace and freedom God has given us in Jesus. It is a wonderful thing.