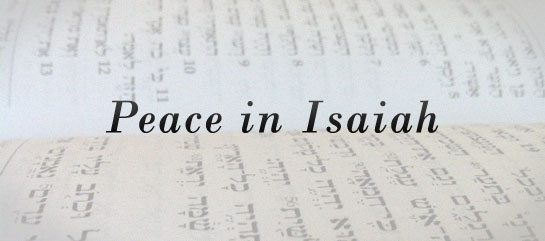 This has been adapted from the commentaries of F.E. Marsh, coming soon to the Blue Letter Bible.
---
Have you ever noticed the theme of "peace" woven throughout the book of Isaiah?
Prince of Peace. "and his name shall be called . . . . Prince of Peace" (Isaiah 9:6).
Perpetuity of Peace. "Of the increase of his government and of peace there will be no end" (Isaiah 9:7).
Perfection of Peace. "You keep him in perfect peace" (Isaiah 26:3).
Power of Peace. "O L

ORD

, you will ordain peace for us" (Isaiah 26:12).
Possessor of Peace. "let them make peace with me" (Isaiah 27:5).
Parent of Peace. "And the effect of righteousness will be peace" (Isaiah 32:17).
Promise of Peace. "There will be peace and security in my days" (Isaiah 39:8).
Provider of Peace. "I make peace" (Isaiah 45:7).
Partner of Peace. "Then your peace would have been like a river" (Isaiah 48:18).
Publisher of Peace. "…who publishes peace…" (Isaiah 52:7).
Permanence of Peace. "and my covenant of peace shall not be removed" (Isaiah 54:10).
Price of Peace. "upon him was the chastisement that brought us peace" (Isaiah 53:5).
Preciousness of Peace. "and great shall be the peace of your children" (Isaiah 54:13).
Progress of Peace. "For you shall go out in joy and be led forth in peace" (Isaiah 55:12).
Prospect of Peace. "he enters into peace" (Isaiah 57:2).
Proclamation of Peace. "Peace, peace to the far and to the near" (Isaiah 57:19).
Picture of Peace. "Behold, I will extend peace to her like a river" (lxvi. 12).