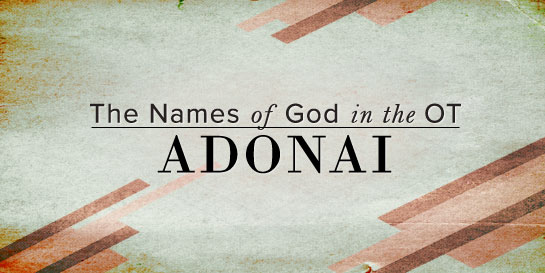 (ad-o-noy')
Lord, Master
Use in the Bible: In the Old Testament Adonai occurs 434 times. There are heavy uses of Adonai in Isaiah (e.g., Adonai Jehovah). It occurs 200 times in Ezekiel alone and appears 11 times in Daniel Chapter 9.Adonai is first used in Gen 15:2.
Variant spellings: None
TWOT Reference: 27b
Strong's Reference: 0136
Adonai in the Septuagint: kurios…Lord, Master
Meaning and Derivation
Adonai is the verbal parallel to Yahweh andJehovah. Adonai is plural; the singular is adon. In reference to God the plural Adonai is used. When the singular adon is used, it usually refers to a human lord. Adon is used 215 times to refer to men. Occasionally in Scripture and predominantly in the Psalms, the singular adon is used to refer to God as well (cf. Exd 34:23). To avoid contravening the commandment "Thou shalt not take the name of the LORD thy God in vain" (Exd 20:7), sometimes Adonai was used as a substitute forYahweh (YHWH). Adonai can be translated literally as, "my lords' " (both plural and possessive).
Further references of the name Adonai in the Old Testament:Complete list available here.