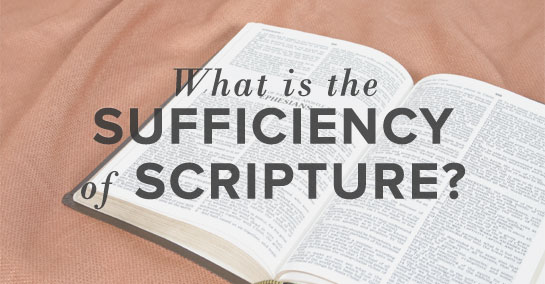 The sufficiency of Scripture can be simply defined as follows: In the Bible alone, God has given humankind all things that are necessary for the proper understanding of who God is, who we are, how God has acted in the past, and what God expects from us. The basic idea behind the sufficiency of Scripture is that nothing else needs to be revealed to humanity about God or His plan for the human race. In addition, through the various stages of history, God have His people sufficient information to believe in Him.
We Are To Search The Scriptures
 The answers to the basic problems that humanity faces, such as identity, purpose, and destiny, can be found in the pages of Scripture. Jesus said to the religious leaders of His day.
"You search the Scriptures because you think that in them you have eternal life; and it is they that bear witness about me" (John 5:39).
Paul emphasized the same truth to Timothy.
"All Scripture is breathed out by God and profitable for teaching, for reproof, for correction, and for training in righteousness, that the man of God may be competent, equipped for every good work" (2 Timothy 3:16-17).
According to Paul, those who study the Scripture can be thoroughly equipped for "every good work." Scripture is profitable for teaching, rebuking, correcting, and training in righteousness. We need nothing else.
The Bible Alone Has The Answers 
The sufficiency of Scripture means that the Bible contains what God thought that we should know on a number of different topics. His teaching on any subject is sufficient for us. We do not have to go elsewhere to find answers. The Bible says.
"Beloved, although I was very eager to write to you about our common salvation, I found it necessary to write appealing to you to contend for the faith that was once for all delivered to the saints" (Jude 3).
Consequently we are able to search the Bible and find out the important truths about God in its pages.
The Bible Alone Has The Key To Salvation
The Bible alone holds the key to salvation. Paul wrote to Timothy.
"and how from childhood you have been acquainted with the sacred writings, which are able to make you wise for salvation through faith in Christ Jesus." (2 Timothy 3:15).
Everything That We Need To Know
 While the Scriptures contain everything humanity needs to know about God, it does not reveal everything that we want to know. The truth that God has revealed is sufficient but not exhaustive.
We Do Not Need Some Authority To Interpret The Bible For Us
 Sometimes it is argued that Scriptures are not clear in and of themselves. Believers need some type of external authority to properly interpret and understand it. This may be some church, a creed, or a the teaching of some church leader. However the facts speak otherwise.
This Is Not A Reasonable Position 
It is unreasonable to assert that God would give humanity a revelation of Himself that could not be understood by the masses. The Bible is written in such a way that people in every age are able to understand it. Every believer is commanded to study the Scriptures for themselves. Paul wrote.
"Do your best to present yourself to God as one approved, a worker who has no need to be ashamed, rightly handling the word of truth" (2 Timothy 2:15).
The Creeds And Councils Are Insufficient 
Although some assert that creeds or church councils are alternatives to Scripture they cause more problems than they solve. Creeds and councils, no matter how orthodox, are still the pronouncements of human beings. There is no guarantee that any pronouncements they make are to be considered infallible. The Holy Scripture contains all things necessary for salvation. There is no need for anything to be added to them.
The Bible Has Proved Sufficient For Us
Scriptures have proved themselves to be sufficient. Those who read and study the Bible discover that the Scripture provide everything necessary to understand the plan of God and live a godly life. Peter wrote.
"His divine power has granted to us all things that pertain to life and godliness, through the knowledge of him who called us to his own glory and excellence" (2 Peter 1:3).
Summary 
The sufficiency of Scripture is an important doctrine. It teaches that everything that humankind needs to know about God and ourselves has been revealed in the Bible. These truths should be studied. While the truth of Scripture is sufficient it is not exhaustive – it does not tell us everything that we would like to know. Consequently believers do not need any type of external authority to understand and interpret the Scriptures – whether it may be a church, a creedal statement or the teaching of some leader. It is not reasonable to think that God would give a communication to humanity that could not be understood by the masses. In fact, believers are commanded to study the Bible for themselves. God has given believers all things necessary to understand the Scriptures. As one studies the Bible the truths about God and His plan becomes more and more clear.