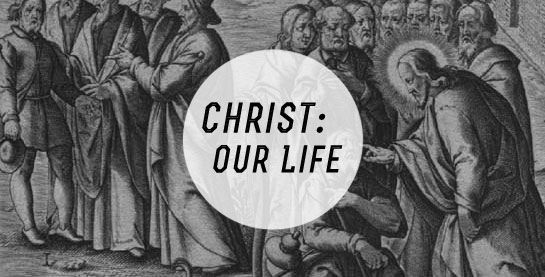 THERE are many words and phrases that are peculiar to the gospel of John. John's Gospel is peculiar in itself. Matthew shows us Christ as "King," Mark as the "Servant," Luke as the "Man," and John as the "Life."
Christ as our Life may be traced right throughout John. Jesus is:
…the Source of life.
"In him was life, and the life was the light of men" (John 1:4).
…the Glory of life.
"This, the first of his signs, Jesus did at Cana in Galilee, and manifested his glory. And his disciples believed in him" (John 2:11).
…the Power of life.
"Jesus answered, "Truly, truly, I say to you, unless one is born of water and the Spirit, he cannot enter the kingdom of God" (John 3:5).
…the Gift of life.
"but whoever drinks of the water that I will give him will never be thirsty again. The water that I will give him will become in him a spring of water welling up to eternal life" (John 4:14).
…the Assurance of life.
"Truly, truly, I say to you, whoever hears my word and believes him who sent me has eternal life. He does not come into judgment, but has passed from death to life" (John 5:24)
…the Bread of life.
"I am the bread of life" (John 6:48)
…the Blessings of life.
"Whoever believes in me, as the Scripture has said, 'Out of his heart will flow rivers of living water'" (John 7:38).
…the Liberty of life.
"So if the Son sets you free, you will be free indeed" (John 8:36).
…the Testimony of life.
"Jesus said to him, 'You have seen him, and it is he who is speaking to you'" (John 9:37).
…the Security of life.
"I give them eternal life, and they will never perish, and no one will snatch them out of my hand" (John 10:28).
…the Energy of life.
"When he had said these things, he cried out with a loud voice, 'Lazarus, come out'" (John 11:43).
…the Union of life.
"Whoever loves his life loses it, and whoever hates his life in this world will keep it for eternal life" (John 12:25).
…the Holiness of life.
"You call me Teacher and Lord, and you are right, for so I am. If I then, your Lord and Teacher, have washed your feet, you also ought to wash one another's feet. For I have given you an example, that you also should do just as I have done to you" (John 13:13-15).
…the Hope of life.
"And if I go and prepare a place for you, I will come again and will take you to myself, that where I am you may be also" (John 14:3).
…the Fruitfulness of life.
"Abide in me, and I in you. As the branch cannot bear fruit by itself, unless it abides in the vine, neither can you, unless you abide in me" (John 15:4).
…the Spirit of life.
"When the Spirit of truth comes, he will guide you into all the truth, for he will not speak on his own authority, but whatever he hears he will speak, and he will declare to you the things that are to come" (John 16:13).
…the Abode of life.
"Father, I desire that they also, whom you have given me, may be with me where I am, to see my glory that you have given me because you loved me before the foundation of the world" (John 17:24).
…the Rejection of life.
"They cried out again, 'Not this man, but Barabbas!' Now Barabbas was a robber" (John 18:40).
…the Humility of life.
"and he went out, bearing his own cross, to the place called The Place of a Skull, which in Aramaic is called Golgotha" (John 19:17).
…the Peace of life.
"On the evening of that day, the first day of the week, the doors being locked where the disciples were for fear of the Jews, Jesus came and stood among them and said to them, 'Peace be with you.'" '(John 20:19).
…the Instruction of life.
"When they had finished breakfast, Jesus said to Simon Peter, 'Simon, son of John, do you love me more than these?' He said to him, 'Yes, Lord; you know that I love you.' He said to him, 'Feed my lambs'" (John 21:15).