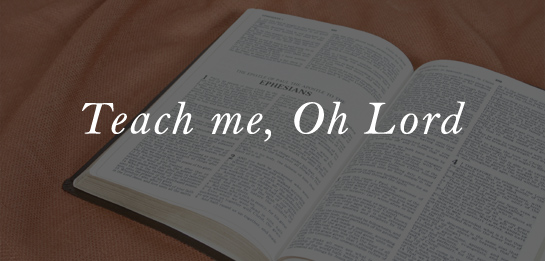 The following has been adapted from The History and Authenticity of the Bible, a free class available at the Blue Letter Bible Institute.
---
In Psalm 119, we have a lot of beautiful statements. Let's just highlight a few.
In verses 26 and 27, we see a prayer. "I have declared my ways and Thou heardest me. Teach me Thy statutes. Make me to understand the way of Thy precepts. So shall I talk of Thy wondrous works."
What about you? Do you ask God, "Teach me Your statutes?" Do you say, "Make me understand?" To say, "Make me understand"—and it's because of a grammatical form of the word that it's translated "make me to understand"—it suggests that there's a natural tendency on our part not to do this. Somehow, God needs to give us nudgings and proddings to make us understand. The psalmist was recognizing his own depravity and resistance when he says, "make me to understand."
Psalm 119:33-34 says, "Teach me [again the prayer] Teach me O Lord, the way of Thy statutes." Notice back in verse 26 he said, "Teach me Thy statutes" and here he says, "Teach me the way of Thy statutes." See, when you come to study the Bible, it's not just the content that you get down, but it's the point of the content. It's the direction in which God wants you to go by what you have learned. And sometimes we see people who are very intelligent in the Bible, but they don't know what it means. They don't know how to apply it. They don't know the direction they should walk because of it. And that comes as a result of dependency upon God as well.
"Teach me [not only Your statutes, but teach me] the way of Your statutes and I shall keep it unto the end. Give me understanding. I shall keep Thy law. Yeah, I shall observe it with my whole heart." Sometimes when the Bible clearly shows you something you should do, but it's contrary to what you do, all of a sudden your mind thinks, "I wonder if there's another interpretation?" Funny how that works, isn't it?
In Psalm 119:68 it says, "Thou art good and doest good. Teach me Thy statutes." Here we have a motive for our obedience and conforming to the word of God—because everything behind it is good. "All things work together for good" (Romans 8:28). God is good. "His goodness leads to repentance" (Romans 2:4). So pray, Lord, I want to learn. I know that behind all of this is Your goodness.
Verse 73 says, "Thy hands have made me and fashioned me. Give me understanding that I may learn Thy commandments." You know you can learn how to recite something by memorizing it. But did you actually learn it? You might be able to reduplicate something on a test, but has it become part of your lifestyle? Has the word of God conformed you from the inside out?
Verse 169 says, "Let my cry come near before Thee O Lord. Give me understanding according to Thy word." All the way through this, there's a hunger. There's a thirst. There's a cry from God's servant to the Lord. "Lord, I want to know Your word more than anything else."
By God's grace, may we hunger in this way!