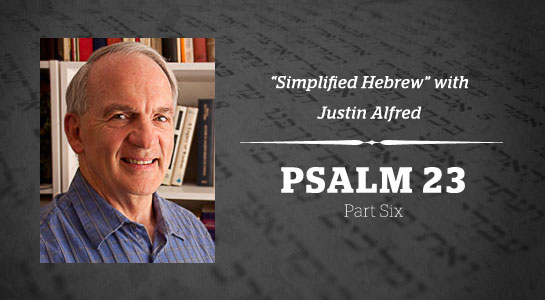 "Surely goodness and lovingkindness will follow me all the days of my life, and I will dwell in the house of the LORD forever."
(Psalm 23:6)
The word "surely" in the Hebrew is אַךְ ('ak), and it is what is called an adverbial particle. Adverbial particles make a very strong positive assertion of truth—in contrast to the trials of faith David was talking about in the previous verses (e.g., any and all of his needs being met [verse 1]; spiritual, mental, and emotional restoration [verse 3]; "the valley of deep, emotional darkness" brought on by various trials in life [Verse 4]; and confrontation with enemies [verse 5]). And it does so by stating that in the face of all of the discouraging and debilitating things he has faced, or will be confronted with, God's "goodness and lovingkindness will follow me all the days of my life, and I will dwell in the house of the LORD forever."
However, it is important to note that the English translation "follow" does not really convey the force of its Hebrew word רָדַף (rādaph), which also means "to pursue, chase, and attend closely upon." In this instance, this verb is in the Qal imperfect form, indicating an ongoing and continuous action of the pursuer, Who is God Almighty—יְהֹוָה (YHWH)—Who in turn is Jesus Christ, our Lord and Savior. Thus, not only does the Lord "continue to make me lie down, lead, guide, and restore me, but he also continually pursues, chases, and attends closely to me" – He is, therefore, in front of me and behind me, as He guards, protects, disciplines, and continually conforms me to the image of Jesus Christ:
And we know that God causes all things to work together for good to those who love God, to those who are called according to His purpose. 29 For whom He foreknew, He also predestined to become conformed to the image of His Son, that He might be the firstborn among many brethren; 30 and whom He predestined, these He also called; and whom He called, these He also justified; and whom He justified, these He also glorified. 31 What then shall we say to these things? If God is for us, who is against us? 32 He who did not spare His own Son, but delivered Him up for us all, how will He not also with Him freely give us all things? 33 Who will bring a charge against God's elect? God is the one who justifies; 34 who is the one who condemns? Christ Jesus is He who died, yes, rather who was raised, who is at the right hand of God, who also intercedes for us. 35 Who shall separate us from the love of Christ? Shall tribulation, or distress, or persecution, or famine, or nakedness, or peril, or sword? 36 Just as it is written, "For Thy sake we are being put to death all day long; We were considered as sheep to be slaughtered." 37 but in all these things we overwhelmingly conquer through Him who loved us. 38 For I am convinced that neither death, nor life, nor angels, nor principalities, nor things present, nor things to come, nor powers, 39 nor height, nor depth, nor any other created thing, shall be able to separate us from the love of God, which is in Christ Jesus our Lord. (Romans 8:28-39)
May the Lord, therefore, give you His comfort, strength, and His absolute assurance—once again—of His being and majesty before you as He provides for your needs; as He continually causes you to lie down in "green pastures," and continually leads you intensely "beside quiet waters" when you need it; as He is continually and intensely is "restoring your soul"; and as He continually causes you to be "guided in the wagon tracks of righteousness."
May you also know—assuredly—that He is behind you, continually pursuing, chasing, and closely attending to you by protecting you and providing His loving and corrective discipline in order that "you may share His holiness" and experience His "peaceful fruit of righteousness" in your life.