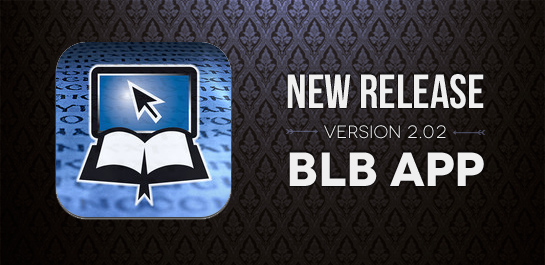 We have released the latest update for the Blue Letter Bible app (universally designed for iPod, iPhone, iPad). We are excited to tell you about this version's significant updates.
Because user experience and product quality are high on our ministry priority list, the new changes include both improved functions and added features.
Whats new in this revision….
The two biggest changes in this update are:
• Added iCloud Backup/Restore integration
• Fixed critical iOS 5.x issue where cache cleaning would delete Bibles
Other updates include:
• Added new BLB color theme
• Added cleanup to remove temporary files
• Improved Internet connection performance
• Improved Manage Bibles
• Improved overall installation performance
• Improved the scroll view speed, increasing range
• Fixed memory leaks on Bible installs
• Fixed leap year bug in Daily Bible Reading
• Fixed foreign language Bibles search
For more information on this app and its features, or to download to your iOS device, please
click here
.
Android users:
We've heard you loud and clear! It is our desire to get an app ready for your devices as well. We are working diligently around the clock on the BLB and praying for the additional resources to become available. If you would like to consider partnering with us on this project,
please visit here
. Thank you and God bless!
Your fellow servants in Christ,
The BLB team