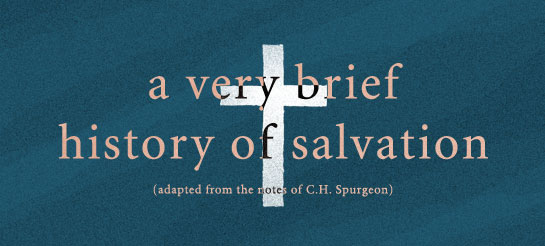 Now before faith came, we were held captive under the law, imprisoned until the coming faith would be revealed.
(Galatians 3:23)
Here we have a very condensed history of the world before the gospel was fully revealed by the coming of our Lord Jesus. The history of each Christian—each saved soul—is a miniature likeness of the story of the ages. God acts upon the same principles both with the race and with individuals.
The Unhappy Period: "…before faith came…"
The world has no concept of saving faith by nature. It would never occur to the fallen human mind that we could be saved by believing in Jesus. Even more so, we are totally unable to reach saving faith on our own, even when we begin to learn of its necessity  and desire to exercise it.
The reason of this inability was moral, not mental. We were proud men and did not care to renounce self-righteousness. We could not grasp the notion of salvation by faith because it was contrary to our usual run of opinions; the depraved mind likes to think either that salvation is not needed or that it can be attained by our own proud work.
Christians, Ephesians 2 tells us that when we were apart from saving faith, we were essentially walking around as though we were dead—dead in our trespasses and sins. We followed the course of the fallen world and God's enemy Satan. We were, as Paul put it, "children of wrath" (Ephesians 2:1-3).
The Custody We Were In: "…held captive under the law, imprisoned…"
Before saving faith, we were always within the realm and sphere of the law. In fact, there was no way to escape it; we were imprisoned captives. There was no hope to be discovered when we dwelt under the law and apart from grace, for every man stood guilty under this divine law (Romans 3:23).
The Revelation Which Set Us Free: "…the coming faith [that] would be revealed."
The only thing that could break us free from this prison is faith—saving faith. All Christians throughout history have been saved because this great faith has come and indeed was revealed.
Faith came. It is saving faith. It is saving faith in Jesus Christ, the Son of God.
This faith opened our eyes and taught us the good news to believe, that salvation comes from another and not from ourselves. It comes from the God of salvation. Because of this God, our salvation is complete – for left to ourselves, we would end in failure. This faith is the only hope. It is our only freedom from the captivity of the law.
If you are a Christian today, you have been saved by this faith. May all praise be to God who works in and through history for the redemption of His people!
---
Several of Charles H. Spurgeon's sermons and commentaries are available free at the Blue Letter Bible. If you would like to partner with us in providing more commentaries, please visit here.