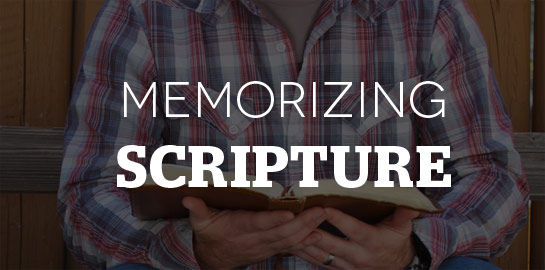 Shortly after God saved me, I was encouraged to join a Bible study at the church I attended. The leader of this Bible study was a thorough student of God's word. A former drug addict and thief, God saved him as He read a Bible for the first time. This led to any immediate passion for God's word and a belief in its power. Since then, this old mentor of mine has been daily meditating on Scripture.
One of the first things he taught me was the importance of memorizing Scripture. I will always be grateful for this. There are many reasons we ought to memorize the Word of God, and there are many ways to do it. What I have found most helpful, and what my old mentor taught me, is that memorizing Bible verses that speak about the very power of God's word is a great place to start. Such verses will only encourage you to love God's word; they leave you wanting to memorize even more.
Here are the passages I memorized first. I pray that God uses them to aid in your own memorization of His word.
"'All flesh is like grass and all its glory like the flower of grass. The grass withers, and the flower falls, but the word of the Lord remains forever.' And this word is the good news that was preached to you" (1 Peter 1:24-25).
"For the word of God is living and active, sharper than any two-edged sword, piercing to the division of soul and of spirit, of joints and of marrow, and discerning the thoughts and intentions of the heart" (Hebrews 4:12).
"All Scripture is breathed out by God and profitable for teaching, for reproof, for correction, and for training in righteousness, that the man of God may be competent, equipped for every good work" (2 Timothy 3:16-17).
"so shall my word be that goes out from my mouth;
it shall not return to me empty,
but it shall accomplish that which I purpose,
and shall succeed in the thing for which I sent it"
(Isaiah 55:11)
"With my whole heart I seek you; let me not wander from your commandments!
I have stored up your word in my heart, that I might not sin against you" (Psalms 119:10-11)
"The law of the LORD is perfect,
reviving the soul;
the testimony of the LORD is sure,
making wise the simple;
the precepts of the LORD are right,
rejoicing the heart;
the commandment of the LORD is pure,
enlightening the eyes;
the fear of the LORD is clean,
enduring forever;
the rulesfn of the LORD are true,
and righteous altogether.
More to be desired are they than gold,
even much fine gold;
sweeter also than honey
and drippings of the honeycomb.
Moreover, by them is your servant warned;
in keeping them there is great reward"
(Psalm 19:7-11)
"you have exalted above all things
your name and your word"
(Psalm 138:2) *this is our ministry verse!
"In the beginning was the Word, and the Word was with God, and the Word was God" (John 1:1).
"God is not man, that he should lie,
or a son of man, that he should change his mind.
Has he said, and will he not do it?
Or has he spoken, and will he not fulfill it?"
(Numbers 23:19)
"Blessed is the man
who walks not in the counsel of the wicked,
nor stands in the way of sinners,
nor sits in the seat of scoffers;
but his delight is in the law of the LORD,
and on his law he meditates day and night.
He is like a tree
planted by streams of water
that yields its fruit in its season,
and its leaf does not wither.
In all that he does, he prospers"
(Psalms 1:1-3)
What about you? Do you memorize Scripture? What verses did you begin with?