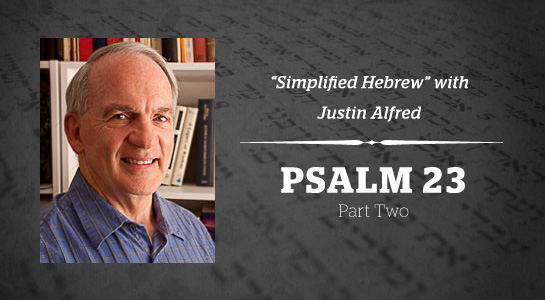 Psalm 23:2: "He makes me lie down in green pastures; He leads me beside quiet waters."
He makes me lie down… continually
One of the fascinating things about the Hebrew language is the explicit meaning of its verbs in picturing for us God's sovereign care and intervention in our lives, and here is one of those instances. The phrase, "He makes me lie down," comes from the Hebrew verb יַרְבִּיצֵנִי yarbîsenî, which is a Hiphil verb form in the imperfect tense. The actual root verb is רָבַץ (rābas), which means "to stretch out and lie down." However, the Hiphil form of the verb indicates what is called "causative action"—that is, action that has been or is being caused to occur by someone – and the imperfect tense indicates action that is continuous and ongoing. Thus, a more literal translation of the first part of this verse would be, "He continually causes me to lie down in green pastures," with the implication being that at times I do not have the sense to know when it is best to lie down and rest in order to be renewed and refreshed. Therefore, God, as my heavenly Father and Shepherd, "causes me to lie down in green pastures" where He might renew and replenish my spiritual, mental, emotional, and physical strength. What an incredibly wonderful promise of God's care, concern, and sovereign guidance for us who are His children!
He leads me… continually
The second part of this verse, "He leads me beside quiet waters," is equally as important. The phrase "He leads me" comes from the Hebrew verb form יְנַהֲלֵֽנִי (yĕnahălenî), which comes from the root verb נָהַל (nāhal), and it is a Piel imperfect verb form. The Piel indicates intensive action, and the imperfect, once again, emphasizes an ongoing, continuous action. Thus, the picture for this verse is that of God continually causing us to "lie down in green pastures" when He knows we need to, and intensely leading us "beside quiet waters" when we need that as well – in both of these instances, the verb pattern is clearly presenting God doing for us what we are either unwilling to do for ourselves when we need to stop and be refreshed, or we are blind to our need for spiritual, mental, emotional, and even physical rest and refreshment.
Oftentimes it is at these occurrences in our lives that God has to bring us to the end of ourselves so that we will listen to what He is wanting to say to us. Quite frequently in our busy lives we are not taking the time to listen to God because we feel we must first of all be engaged in our activities, whatever they may be, versus as our first priority being still and listening to Him through His Word and prayer.