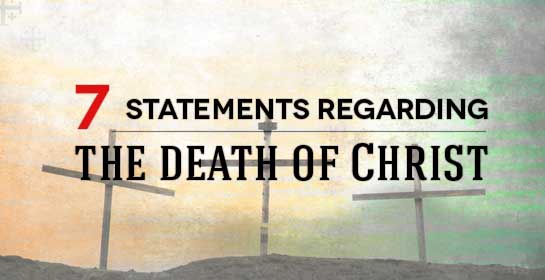 THE cross of Calvary was ever casting its terrible shadow across the path of Christ. It is interesting and instructive to mark Christ's repeated reference to His death.
The death of Christ is:
The testimony to man's sin.
And now, behold, I am going to Jerusalem, constrained by the Spirit, not knowing what will happen to me there, except that the Holy Spirit testifies to me in every city that imprisonment and afflictions await me. – (Acts 20:22-23)
The triumph of God's grace.
But we see him who for a little while was made lower than the angels, namely Jesus, crowned with glory and honor because of the suffering of death, so that by the grace of God he might taste death for everyone. – (Hebrews 2:9)
The trysting place where God and the sinner can meet.
For there is one God, and there is one mediator between God and men, the man Christ Jesus, who gave himself as a ransom for all, which is the testimony given at the proper time. – (1 Timothy 2:5-6)
The title to eternal life.
Truly, truly, I say to you, unless a grain of wheat falls into the earth and dies, it remains alone; but if it dies, it bears much fruit. – (John 12:24)
The temple for refuge.
he entered once for all into the holy places, not by means of the blood of goats and calves but by means of his own blood, thus securing an eternal redemption. For if the blood of goats and bulls, and the sprinkling of defiled persons with the ashes of a heifer, sanctify for the purification of the flesh, how much more will the blood of Christ, who through the eternal Spirit offered himself without blemish to God, purify our conscience from dead works to serve the living God. – (Hebrews 9:12-14)
The teacher for instruction.
For the grace of God has appeared, bringing salvation for all people, training us to renounce ungodliness and worldly passions, and to live self-controlled, upright, and godly lives in the present age, – (Titus 2:11-12)
The tether for binding.
I have been crucified with Christ. It is no longer I who live, but Christ who lives in me. And the life I now live in the flesh I live by faith in the Son of God, who loved me and gave himself for me. – (Galatians 2:20)