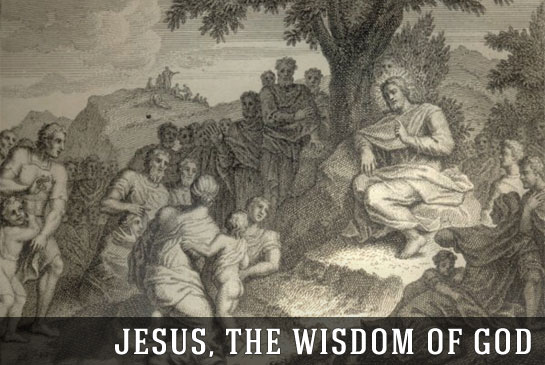 "Everyone who hears these words of mine…"
In the Book of Proverbs, wisdom is often personified as a woman who stands alongside the Lord (Proverbs 1:20-33). She claims that those who heed her call will live in safety (Prov 1:33). Centuries Later, Jesus echoed these same words, taking them straight from wisdom and putting them in His own mouth as though He, Himself, were the personification of wisdom:
"Everyone then who hears these words of mine and does them will be like a wise man who built his house on the rock. And the rain fell, and the floods came, and the winds blew and beat on that house, but it did not fall, because it had been founded on the rock" (Matthew 7:24-25).
Notice the peculiar-sounding condition by which the wise man may find life. Jesus says, "Therefore everyone who listens to my words…" That is a very exclusive claim! How dare He say that! Can Jesus really say that? To answer this, we must first consider who this Jesus is.
Who is this Jesus?
Wise men bowed down before Him to at His birth.  When He was a child, His parents found Him seated before many and teaching the teachers. Religious leaders and scholars were astounded by His words. In Mark 6:2 they asked, "where did this man get wisdom?" In Luke 11, He again has the apparent audacity to speak much of himself and said "someone greater than Solomon is here."
In other words, Jesus said, "I AM THE WISDOM OF GOD."
Jesus, the Wisdom of God
What do I do with that? Paul understood that God's wisdom is foolishness to the world, but not so for the quickened in Christ. And for those who are lofty in worldly wisdom but lack Christ, they are living in foolishness, deceived.

"Let no one deceive himself. If anyone among you seems to be wise in this age, let him become a fool that he may become wise. For the wisdom of this world is foolishness with God. For it is written, 'He catches the wise in their [own] craftiness'; and again, 'The LORD knows the thoughts of the wise, that they are futile.'" (1 Corinthians 3:18-20 NKJV)
Matthew Henry offers a fair warning:
Do not be led away from the truth and simplicity of the gospel by pretenders to science and eloquence, by a show of deep learning, or a flourish of words, by rabbis, orators, or philosophers.' Note, We are in great danger of deceiving ourselves when we have too high an opinion of human wisdom and arts; plain and pure Christianity will be likely to be despised by those who can suit their doctrines to the corrupt taste of their hearers, and set them off with fine language, or support them with a show of deep and strong reasoning. But he who seems to be wise must become a fool that he may be wise.
Fool for Jesus
Jesus is the wisdom of God, but, as we read, this wisdom is foolishness to carnal men. So the dilemma is this: you're a fool no matter what. The question is: Are you a fool to the world? Or are you a fool to the Lord? Are you a fool for Jesus, or against Him?