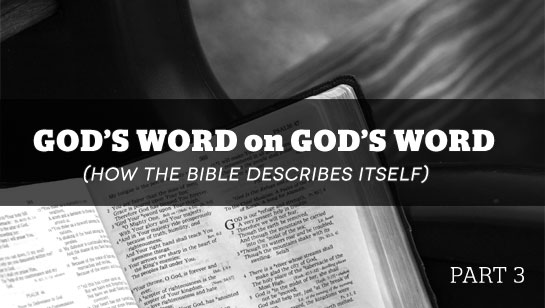 We find the Bible assuming itself to be the Word of God in the special terms that it uses to describe itself. In this blog series' third installment, we consider a couple more of these terms: "Book (Scripture) of Truth" and "Books".
5.The Book (Scripture) Of Truth
In Daniel, we find the written Word called the "Book," or Scripture, of truth.
But first I will tell you what is written in the Book of Truth. (No one supports me against them except Michael, your prince) (Daniel 10:21).
6.The Books
Daniel the prophet used the term, "the books" to refer to the sacred writings.
In the first year of his reign, I, Daniel, observed in the books the number of the years which was revealed as the word of the Lord to Jeremiah the prophet for the completion of the desolations of Jerusalem, namely, seventy years (Daniel 9:2)
Paul used the term to refer to the sacred writings.
When you come bring the cloak which I left at Troas with Carpus, and the books, especially the parchments (2 Timothy 4:13).
While he may have been referring to the Old Testament it is possible that his own writings were meant.
The Use Of The Terms Book And The Books
Depending upon the context, the word translated "book" can also refer to a book of magic.
And many of those who practiced magic brought their books together and began burning them in the sight of everyone; and they counted up the price of them and found it fifty thousand pieces of silver (Acts 19:19).
In the gospel, the term "book" is used for a certificate, or bill, of divorce
They said, "Moses permitted a man to write a certificate (book) of divorce and send her away" (Mark 10:4)
Therefore Scripture uses the terms "book" and "books" in a number of different ways – including sacred books.