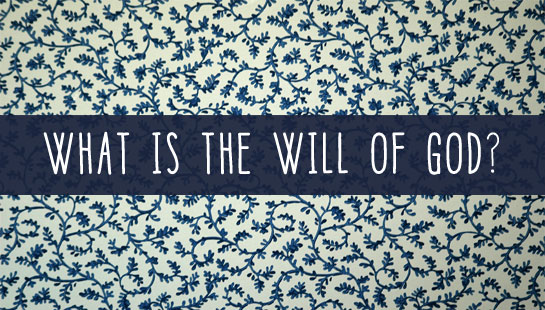 It's a question that many of us ask: "What is God's will for my life?" After all, what child of God does not want to know the answer to this? The question of purpose—who we are, why we're here, what God wants of/from/for us—is fundamental to human existence.
The best place to go for help in discovering God's will is His revealed word. God gave us His word "for teaching, for reproof, for correction, and for training in righteousness, that the man of God may be competent, equipped for every good work."
What Is the Will of God?
Scripture has much to say about knowing God's will. It offers at least three answers to the age-old question:
1. God's will is that we abound in wisdom and fruit.
Colossians 1:9,
And so, from the day we heard, we have not ceased to pray for you, asking that you may be filled with the knowledge of his will in all spiritual wisdom and understanding, so as to walk in a manner worthy of the Lord, fully pleasing to him, bearing fruit in every good work and increasing in the knowledge of God.
2. God's will is that we be sanctified—conformed to the image of His Son.
1 Thessalonians 4:3,
For this is the will of God, your sanctification…
3. God's will is for us to rejoice, pray, and be thankful.
1 Thessalonians 5:16-18,
Rejoice always, pray without ceasing, give thanks in all circumstances; for this is the will of God in Christ Jesus for you.
How We Achieve God's Will in Our Lives
There is only one way that we are able to live out His will in our lives: by living in the transformative power of the gospel:
"Do not be conformed to this world, but be transformed by the renewal of your mind, that by testing you may discern what is the will of God, what is good and acceptable and perfect" (Romans 12:2).