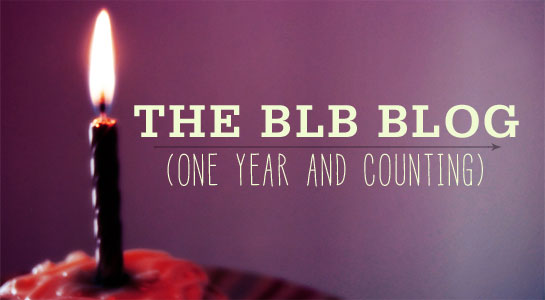 Celebration is in order today.
Today marks the first anniversary of the Blue Letter Bible Blog. Over the last year, we have used this blog to inform you of new resources, highlight certain BLB features, introduce new commentaries, and provide biographies and other various articles. Now that we've completed our first lap around the sun, we have some exciting new plans for the BLB blog on the horizon!
New blog ideas for 2012
We will continue to provide similar content each weekday to aid in your use of the Blue Letter Bible and its resources. Among the growing list of new plans that we have for the blog, I want to highlight three in particular:
Meet the staff and follow us through new projects. By God's grace, we are a small team that labors around the clock to keep the Blue Letter Bible ministry running. This includes: up-keeping the BLB servers, developing new content, maintaining all of your favorite Bible study tools, and more. Each person brings something unique to the team, and with a site redesign and new resources being released this year, we thought it would be fun to let you in on the week-to-week happenings at our ministry offices.
Biblical Language studies with Justin Alfred. You may already be familiar with Justin and not even know it. Confused? Let me explain. Justin is the voice of our "Lexicon pronunciation" tool. When you click on the Greek or Hebrew lexicon function on the Blue Letter Bible, you'll find an option to have hear the proper pronunciation of the Biblical word. The man behind that voice is Justin Alfred. Justin runs Word in Life Ministries and is an expert in Biblical Greek and Hebrew. This year, he will be writing regularly for the blog and walking us through various word studies to gain a better understanding of Biblical languages and the importance of grammatical context.
Blue Letter Bible version 3.0 tutorials. When the new version of the Blue Letter Bible is released (version 3.0), we will use the blog to highlight new features and functions. This will also be a great forum to start a conversation and give feedback on the new design and the new features that will be included. Stay tuned!
Any suggestions?
What about you? How would you like us to use this blog? What kind of resources or articles would you like to see us highlight? If you have any ideas, let us know in the comments below. We'd love to hear from you.