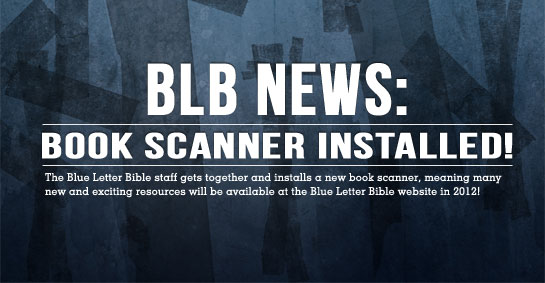 Yesterday was a big day for us at the Blue Letter Bible offices.
You might remember a blog post last week in which we shared our continuing desire to provide timeless resources to aid in your Bible study. We wrote:
One of the big projects that we were able to move forward is the "Resources for Women's Ministry" portion of our website which included reproductions of many lovely devotionals from the 19th century. Using a scanner, we were able to place many pages and images online for you. We've also been able to add more maps and Bible images to our image gallery.

Because of equipment limitations, we could only scan small books or books that could easily be taken apart. However, our office library is full of other great books—old antique books which are high in demand but hard to come by. Many are first print 18th century editions that have never been republished. The books in this valuable "Antiquarian" section include the trusted works from: Charles Spurgeon, Thomas Watson, Richard Sibbes, D.L. Moody, William Tyndale, Andrew Murray, and many others. We have wanted to scan many of these works, but because of their size and/or fragility we could not scan them.

At the beginning of this new year, we received the first components for our new book scanner. This one is a full table-top scanner with a larger book platform. It utilizes point-and-shoot cameras with trusted image editing software.
Well, we are excited to tell you that over the last week, the rest of the equipment came in. And yesterday, we had the book scanner fully installed. The company we purchased the scanner from was kind enough to train our staff on how to operate it. In the upcoming weeks, we will begin scanning many previously unreleased works. We plan to roll these out to you later on this year, along with the Blue Letter Bible redesign.
Here are a few snapshots of the day's events.
Thank you for your continued support, prayers, and provision. We labor each day to serve you, the BLB users. Our prayer is that God may be supremely glorified as He uses our free tools and resources to bless His church.
To God alone be the glory. AMEN!