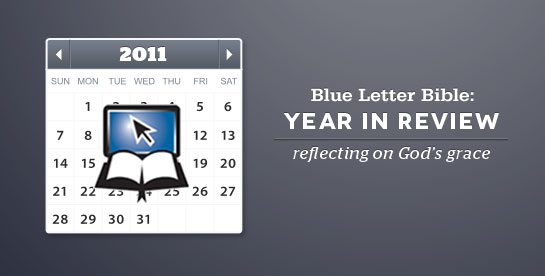 Ministry Overview
Blue Letter Bible's mission is to facilitate an in-depth study of God's Word through an online interactive reference library that is continuously updated from the teachings and commentaries of selected pastors and teachers who hold to the conservative, historical Christian faith. By God's grace and provision, BLB now offers over 680,000 content pages of Bible study resources, including:
Advanced Bible Search
Bible Study Tools
Audio, Video, and Text Commentaries
Audio Sermon Downloads
Daily Devotionals and Reading Plans
Topical Papers and Theological Notes
Spanish Language Resources
Social Networking and Applications
Blue Letter Bible Institute
One of BLB's key offerings is the Hebrew-Greek Lexicon, which gives users immediate access to the original Hebrew and Greek words of each passage as well as cross-referencing of the original language to other passages throughout the entire Old and New Testament. Most recently, BLB has expanded ministry reach through Spanish language resources, social networking (Facebook andTwitter), Mobile BLB, and the newly created BLB iPhone and iPad applications.
Included within the ministry of BLB is the Blue Letter Bible Institute (BLBi). BLBi is a co-laboring effort with other ministries, teachers, and Bible colleges aimed at providing online courses that are identical to courses being taught as part of Bible college curriculums, conferences and seminars. BLBi currently offers 12 courses with competency exams, and has proved to be an excellent resource to the lay body who are seeking to grow in the essentials of Christianity.
A few 2011 additions
Additions to Our New Women's Ministry Section
Announcing the addition of new content to Glimpses of His Glory, a section of our site devoted to resources that may be of particular interest to those involved in women's ministry. We have added Ponnamal Her Story by missionary Amy Carmichael (a book) and The Excellent Woman as described in the Book of Proverbs 31:10-31 produced by Anne Pratt and the Religious Tract Society in 1900 (another book).  It contains beautiful illustrations. We have also added two resource index pages for Women of Scripture; Rahab and Ruth.
Other additions included:
Best of Kay Smith audio studies:
A Right Relationship
Help! Lord Change Me
Team Strategy
For As Much As Ye Know
Eternal Perspective
Elisabeth Elliot audio messages:
God's Guidance
Seeing God in Everything
Doing Everything for God
The Present Moment
New Books Added:                           
Ponomal Her Story by Amy Carmichael
The Excellent Woman study in Psalm 31
 New Women of Scripture:
Study of Rahab
Study of Ruth
---
Stay tuned because over the next few days, we will highlight some great 2011 editions we've made to these areas and introduce some future projects that you can expect to see in 2012.