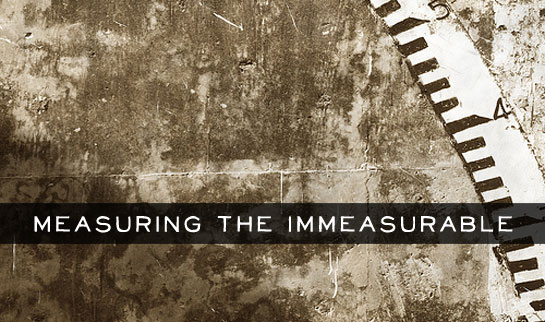 Adapted from Spurgeon's sermon notes:
"…that according to the riches of his glory he may grant you to be strengthened with power through his Spirit in your inner being, so that Christ may dwell in your hearts through faith–that you, being rooted and grounded in love, may have strength to comprehend with all the saints what is the breadth and length and height and depth, and to know the love of Christ that surpasses knowledge, that you may be filled with all the fullness of God. Now to him who is able to do far more abundantly than all that we ask or think, according to the power at work within us, to him be glory in the church and in Christ Jesus throughout all generations, forever and ever. Amen."
(Ephesians 3:16-19)
The ability to comprehend and measure described in our text was the subject of the apostle's prayer, and therefore we may be quite sure that it is a most desirable attainment.
Observe how he prays, and how wisely he arranged his petitions.
He would have us measure the immeasurable, but he would first have us made fit to do so.
We shall make our chief point the fourfold measurement, but we shall note that which comes before, and that which follows after.
1. Requirements before the measurement.
In order to comprehend the astounding and limitless breadth and height of God's love for us in Christ, we must first be "strengthened with power through his Spirit." The power and ability required is spiritual, holy, heavenly, divine, and actually imparted by God the Holy Ghost.
It is also required that Christ dwell in our hearts. Makes sense, right? If we want to understand the depths of Christ's love, Christ must first dwell in us "in (our) hearts through faith." Christ must be ever near, that we may learn to measure Him. Communion with the Godhead is the basis of this knowledge, and such communion is only possible by abiding in Christ.
2. The measurement itself.
The breadth. The breadth of God's love for His people is immense in it's comprehending, covering, and compassing. The breadth of God's love is comprehending all nations – we are to "proclaim the gospel to the whole creation" (Mark 16:15). It is covering the host of our iniquities (Psalm 51), and it compasses all needs and every care. Imagine sailing across the breadth of the river of God's love and surveying its broad surface.
The length. The length of God's love for His people is eternal. Have you ever wondered why it is that God should love us at all? His fountain is eternal and ever-flowing (John 4:14). His love continues everlasting in faithfulness (Philippians 1:6).
The depth. The depth of God's love for His people is incomprehensible. Consider the scandal of God's incarnation. The glory of God in Jesus Christ stooped in divine love, condescending to walk with us and commune with us. Jesus received the church in love, bore our faults and iniquities, and to take us up with Him from our low estate (Philippians 2 & Ephesians 2). Even moreso, consider the depth of our weakness, sinfulness, and despair; then consider Christ's glory, holiness, greatness, and Deity. Incomprehensible!
The height. The height of God's love for His people is infinite. In Ephesians 1:19-23 we see that the present and future glory of Christ is without bounds. All things are under the dominion of His power. And from His throne on high, He chooses to show consideration for us and even love us.
3. The practical result of this measurement.
Paul prays for God's people to get this so that we "may be filled with all the fullness of God."
Here are a few words full of incredible mystery, worthy to be pondered.
Be filled. What an amazing thing for us creatures to hold!
Filled with God. What glorious exaltation and privilege!
Filled with the fullness of God. God is supremely sufficient to fill us and satisfy us.
Filled with all the fullness of God. Amazing.
What a wonderful display of God from our almighty God.
This love and this fullness will also lead to the imitation of Christ's love. May our love to Him be broad, long, deep, high.