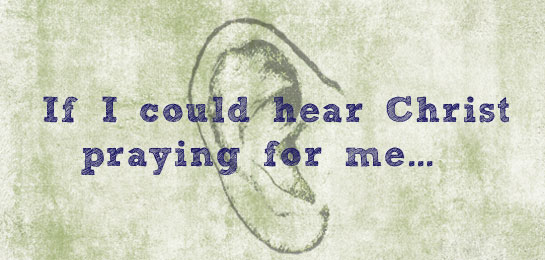 Since then we have a great high priest who has passed through the heavens, Jesus, the Son of God, let us hold fast our confession. For we do not have a high priest who is unable to sympathize with our weaknesses, but one who in every respect has been tempted as we are, yet without sin. Let us then with confidence draw near to the throne of grace, that we may receive mercy and find grace to help in time of need.
(Hebrews 4:14-16)

What then shall we say to these things? If God is for us, who can be against us? He who did not spare his own Son but gave him up for us all, how will he not also with him graciously give us all things? Who shall bring any charge against God's elect? It is God who justifies. Who is to condemn? Christ Jesus is the one who died—more than that, who was raised—who is at the right hand of God, who indeed is interceding for us.
(Romans 8:31-34)

God's word tells us that Jesus Christ, our great Lord and Redeemer, has ascended to God's right hand, and from there, He "indeed is interceding for us."
Think about that. The Greek word for "interceding" is taking from ἐντυγχάνω (pronounced "entygchanō"), which means "to to to or meet a person, especially for the purpose of conversation, consultation, or supplication; to pray or entreat (see Blue Letter Bible). In other words, Jesus is sitting on His throne on high at this very moment, and He is pleading within the Godhead and praying for His church. What comfort this should give us! In our victories and trials, in the valleys of spiritual life, and in our affliction and suffering, our Savior who hung on a cross for us, He also intercedes for us. Consider these words from Robert Murray M'Cheyne:
"I ought to study Christ as a living Saviour more,—as a Shepherd, carrying the sheep He finds,—as a King, reigning in and over the souls He has redeemed,—as a Captain, fighting with those who fight with me (Psalm 35), as One who has engaged to bring me through all temptations and trials, however impossible to flesh and blood.
I am often tempted to say, 'How can this Man save us? How can Christ in heaven deliver me from lusts which I feel raging in me, and nets I feel enclosing me?' This is the father of lies again! 'He is able to save unto the uttermost.'
I ought to study Christ as an Intercessor. He prayed most for Peter, who was to be most tempted. I am on His breastplate.
If I could hear Christ praying for me in the next room, I would not fear a million of enemies. Yet the distance makes no difference; He is praying for me."
–Robert Murray McCheyne and Andrew A. Bonar, Memoir and Remains of the Rev. Robert Murray McCheyne.