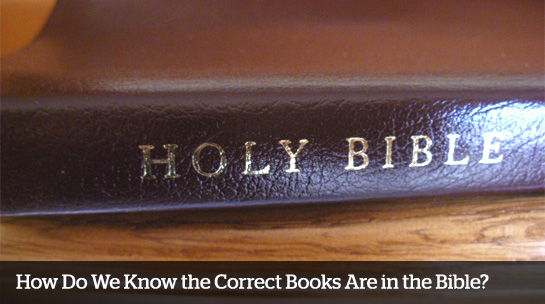 The Bible, as we have it today, consists of sixty-six books. The fact that these books belong as Holy Scripture is confirmed by the testimony of Jesus Christ.
First, with regard to the Old Testament we have the testimony of Jesus to the existing books. He confirmed the accepted three-fold division of our canonical books.
These are the words which I spoke to you while I was still with you, that all things must be fulfilled which were written in the Law of Moses and the Prophets and the Psalms concerning Me (Luke 24:44).
The Promise of Jesus
As far as the New Testament is concerned, we have the promise of Jesus.
But the Helper, the Holy Spirit, whom the Father will send in My name, He will teach you all things, and bring to your remembrance all things that I said to you (John 14:26).
Though we do not have His guarantee after the fact, we have this promise that a New Testament would be given. Thus, we have Jesus "pre-authenticating" the New Testament.
Nature of God
Another reason we can be assured the correct books in the Bible is the nature of God. It has been estimated there are a quintillion stars in the universe and the Bible says God calls them by their names. If God is able to do this, He certainly is able to preserve intact His Word for the benefit of mankind.
Conclusion
Since we have the testimony of Jesus that God preserved the Old Testament for His people, we can also be assured that God took the same care in preserving the New Testament books. When the evidence is examined, we find it consistent and credible.
---
NOTE: This is just an introduction to the canonicity of Scripture. For a more thorough take, please see the class History and Authenticity of the Bible, available for free at the Blue Letter Bible Institute.