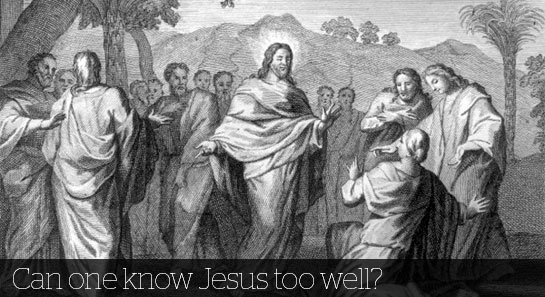 Can the Christian ever know too much knowledge about Christ? Can he ever know too little?
Christ is our Savior, our Lord, our King. And like Him there is no other. It is because of Jesus—His person and work—that we have new life. Everything else this world has to offer us grows dim in the light of His glory and grace, does it not? As the apostle Paul once said, "I count everything as loss because of the surpassing worth of knowing Christ Jesus my Lord. For his sake I have suffered the loss of all things and count them as rubbish, in order that I may gain Christ" (Philippians 3:8).
Consider these words from J.C. Ryle:
"He that would be conformed to Christ's image, and become a Christ–like man, must be constantly studying Christ Himself. Now the Gospels were written to make us acquainted with Christ. The Holy Spirit has told us the story of His life and death, His sayings and His doings, four times over.

Four different inspired hands have drawn the picture of the Savior His ways, His manners, His feelings, His wisdom, His grace, His patience, His love, His power are graciously unfolded to us by four different witnesses. Ought not the sheep to be familiar with the Shepherd?

Ought not the patient to be familiar with the Physician? Ought not the bride to be familiar with the Bridegroom? Ought not the sinner to be familiar with the Savior? Beyond doubt it ought to be so.

The Gospels were written to make men familiar with Christ, and therefore I wish men to study the Gospels.

On whom must we build our souls if we would be accepted with God? We must build on the Rock, Christ. From whom must we draw that grace of the Spirit which we daily need in order to be fruitful? We must draw from the Vine, Christ.

To whom must we look for sympathy when earthly friends fail us or die? We must look to our elder Brother, Christ. By whom must our prayers be presented, if they are to be heard on high? They must be presented by our Advocate, Christ.

With whom do we hope to spend the thousand years of glory, and the after eternity? With the King of kings, Christ. Surely we cannot know this Christ too well!

Surely there is not a word, nor a deed, nor a day, nor a step, nor a thought in the record of His life, which ought not to be precious to us. We should labor to be familiar with every line that is written about Jesus."

–John Charles Ryle, Holiness: Its Nature, Hindrances, Difficulties, and Roots (1877).
May God increase our desire for Him, through Christ and by His Spirit. And may we be driven to dig our noses deeper into His Word as we seek His face like no other.