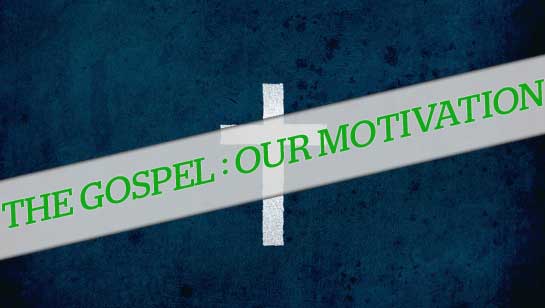 If we are going to get anything right, let us make sure it is the gospel! Paul echoes this mantra throughout his letter to the Galatians. Martin Luther echoed the same sentiments when he championed the doctrine of justification by faith during the first years of the Protestant Reformation. When we meditate upon these wonderful truths of the gospel, our hearts should overflow with joyful praise. Too often, we err on the side of making the gospel more about us, and our work, than it is about Christ and his work.
Paul exhorted the church in Galatia:
"O foolish Galatians! Who has bewitched you? It was before your eyes that Jesus Christ was publicly portrayed as crucified. Let me ask you only this: Did you receive the Spirit by works of the law or by hearing with faith? Are you so foolish? Having begun by the Spirit, are you now being perfected by the flesh?"
(Galatians 3:1-3)
Let us remember what motivates our obedience to Christ—the gospel. The gospel is always worth learning, always worth relearning, always worth remembering, and always worth repeating to others. Consider these words from Jerry Bridges and Bob Bevington:
Paul repeatedly declares that the cross is his sole source of glory. He states, "Far be it from me to boast except in the cross of our Lord Jesus Christ, by which the world has been crucified to me, and I to the world" (Gal. 6:14). And so it is clear that Paul personally and profoundly identifies with Christ's crucifixion. Furthermore, he reveals that a response of gratitude for Christ's love, as demonstrated at the cross, is the compelling motive for a justified sinner's subsequent obedience:
For the love of Christ controls us, because we have concluded this: that one has died for all, therefore all have died; and he died for all, that those who live might no longer live for themselves but for him who for their sake died and was raised.
(2 Corinthians 5:14-15)
These words do not mean that the believer suddenly ceases sinning the moment his legal union to Christ by faith takes place. No justified sinner has ever immediately become experientially sin-free. The cross is not a mere first step toward spiritual development; it is the all-encompassing foundation for Christian growth. The cross does not mystically infuse spiritual life or experiential sinlessness. Instead, it first provides forgiveness of past, present, and future sins, and then it becomes a means of the deliverance by which we are freed from bondage to sin. As Paul affirms, "[Christ] gave himself for our sins to deliver us from the present evil age" (Gal. 1:4a).
By tying the transformation of the believer to the cross, Paul makes his point abundantly clear: everything we need for life and eternity is provided by virtue of Christ's great atonement.
(from The Great Exchange, by Jerry Bridges and Bob Bevington, 2007 Crossway Books. The Great Exchange is currently a featured resource at the BLB Bookstore.)