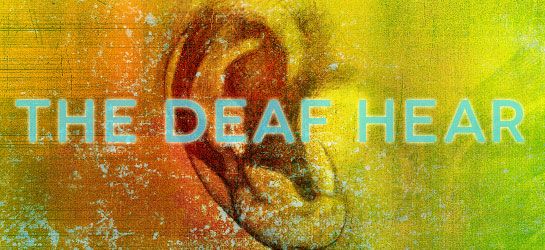 Then the eyes of the blind shall be opened,
and the ears of the deaf unstopped
(Isaiah 35:5)
And he answered them, "Go and tell John what you have seen and heard: the blind receive their sight, the lame walk, lepers are cleansed, and the deaf hear, the dead are raised up, the poor have good news preached to them…"
(Mark 9:25)

The video below has gone viral with almost 8 million views to date. It captures an extraordinary moment in the life of Sarah (Sloan) Churman. Deaf for her entire life, Churman hears her own voice for the first time in 29 years after receiving a hearing implant. You can read about it at The Washington Post. It as a tear-jerking video!
Upon watching, I could not help but think about the following:
Rejoice With Those Who Rejoice
Romans 12:15 tells us to "Rejoice with those who rejoice." And as you can see (and hear, of course!) this is a moment for rejoicing. It is simply amazing what God has given us through technology and the medical field through His common grace to all us sinners. Let us not overlook the fact that this is an amazing gift of God!
Sarah, thank you for sharing this praiseworthy moment with us all. We rejoice with you!
The Deaf Hear
It's important to remember that while sickness, death, evil, and suffering are very real parts of this fallen world, God has provided a Messiah through Whom all things will be made right and reconciled (Colossians 1:16). In the New Earth, there will be no deafness, no blindness, no sin, no death, and no suffering. Yes, the earth still groans (Romans 8:22), but the story is not over. Not yet. O Lord, haste the day!
What No Ear Has Heard
"What no eye has seen, nor ear heard,
nor the heart of man imagined,
what God has prepared for those who love him"—
these things God has revealed to us through the Spirit. For the Spirit searches everything, even the depths of God.
(1 Corinthians 2:9-10)
The joys of our inheritance in the gospel of Jesus Christ have been revealed to us through the very Spirit of God. As wonderful as it is for this young woman to hear her own voice with her own ears, let us remember how much more mind-blowing it is to have our ears opened to hear the very voice of God. This is far more amazing! And it should bring us to tears of joy and overwhelming praise, shouldn't it?
Let us praise the One who has revealed to us what no ear has heard!
http://www.youtube.com/watch?feature=player_embedded&v=LsOo3jzkhYA
Sarah, a Christian, blogs at sloanchurman.blogspot.com