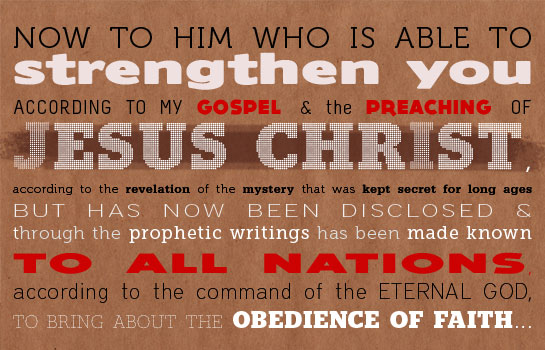 (The following is adapted from the Blue Letter Bible Institute's Survey of the Bible 3 class.)
---
The final section of the book of Romans, chapters 12 through 16, covers the practical application of the gospel and its truths in life. I will call attention to only one or two things. First, in chapter 12, verse 1, he begins,
I appeal to you therefore, brothers, by the mercies of God, [justification, sanctification, glorification] to present your bodies as a living sacrifice, holy and acceptable to God, which is your spiritual worship [or reasonable service].
(Romans 12:1)
In other words, the most reasonable, intelligent, thoughtful, purposeful thing you can do with your life, in view of all these great facts that Paul has declared to you, is to give yourself to God and to live for him. Nothing else can fulfill you to any degree. Therefore, give yourself to him. It is the reasonable thing to do.
When you do, you will find your life being changed in all your relationships. First, it is changed with regard to your brethren, as the latter part of chapter twelve shows. Presenting your body will affect your life in the church. Then, in the latter part of chapter twelve and in chapter thirteen, he says it will affect your relationship to the governing powers, to mankind in general, and to all society. Even your inner attitudes will be different, as discussed in chapter fourteen. Your attitudes toward the weak will be entirely opposite to what it was before you were a Christian. And your attitude toward the lost (chapter fifteen) will be entirely different. There will be a burning passion to reach them, for a quite different reason than you ever could have had before.
Paul's closing words are wonderful (chapter 16, verses 25-27):
Now to him who is able to strengthen you according to my gospel and the preaching of Jesus Christ, according to the revelation of the mystery that was kept secret for long ages but has now been disclosed and through the prophetic writings has been made known to all nations, according to the command of the eternal God, to bring about the obedience of faith—to the only wise God be glory forevermore through Jesus Christ! Amen.
(Romans 16:25-27)
Click here to study Romans 16 at the Blue Letter Bible. Or click here to take one of the several classes offered at the BLB Institute.