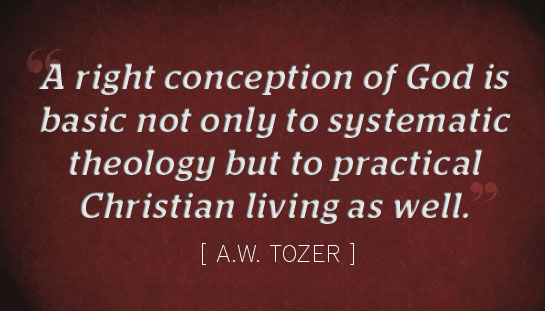 yes, if you call out for insight
and raise your voice for understanding,
if you seek it like silver
and search for it as for hidden treasures,
then you will understand the fear of the LORD
and find the knowledge of God.
(Proverbs 2:3-5)

I thought this quote from A.W. Tozer was a good supplement to our ongoing blog series on the Attributes of God:
What comes into our minds when we think about God is the most important thing about us.
The history of mankind will probably show that no people has ever risen above its religion, and man's spiritual history will positively demonstrate that no religion has ever been greater than its idea of God. Worship is pure or base as the worshiper entertains high or low thoughts of God.
For this reason the gravest question before the Church is always God Himself, and the most portentous fact about any man is not what he at a given time may say or do, but what he in his deep heart conceives God to be like. We tend by a secret law of the soul to move toward our mental image of God. This is true not only of the individual Christian, but of the company of Christians that composes the Church. Always the most revealing thing about the Church is her idea of God, just as her most significant message is what she says about Him or leaves unsaid, for her silence is often more eloquent than her speech. She can never escape the self-disclosure of her witness concerning God.
…
Without doubt, the mightiest thought the mind can entertain is the thought of God, and the weightiest word in any language is its word for God. Thought and speech are God's gifts to creatures made in His image; these are intimately associated with Him and impossible apart from Him. It is highly significant that the first word was the Word: "And the Word was with God, and the Word was God." We may speak because God spoke. In Him word and idea are indivisible.
…
A right conception of God is basic not only to systematic theology but to practical Christian living as well.
—from The Knowledge of the Holy (New York: Harper Collins) – available at the BLB bookstore
What about you? Why do you think it is import to think rightly about God?