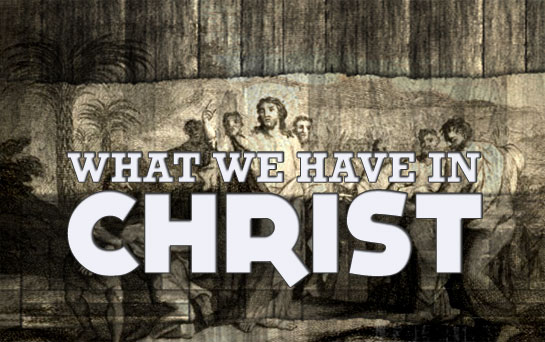 There are many things that the Holy Spirit says we have in Christ. In fact, we are graciously given every spiritual blessing in Him (Ephesians 1:3).
Here are nine of those blessings:
1. Peace
"Therefore, since we have been justified by faith, we have peace with God through our Lord Jesus Christ."
(Romans 5:1)
2. Redemption
"In him we have redemption through his blood, the forgiveness of our trespasses, according to the riches of his grace…"
(Ephesians 1:7)
3. Eternal Life
"I write these things to you who believe in the name of the Son of God that you may know that you have eternal life."
(1 John 5:13)
4. The Spirit of Adoption
"For you did not receive the spirit of slavery to fall back into fear, but you have received the Spirit of adoption as sons, by whom we cry, 'Abba! Father!'"
(Romans 8:15)
5. Strong Consolation/Encouragement
"…so that by two unchangeable things, in which it is impossible for God to lie, we who have fled for refuge might have strong encouragement to hold fast to the hope set before us."
Hebrews 6:18)
6. A Sure and Steadfast Anchor
"We have this as a sure and steadfast anchor of the soul, a hope that enters into the inner place behind the curtain"
(Hebrews 6:19)
7. A Great High Priest
"Now the point in what we are saying is this: we have such a high priest, one who is seated at the right hand of the throne of the Majesty in heaven"
(Hebrews 8:1)
8. A Glorified Body in Reserve
"For we know that if the tent that is our earthly home is destroyed, we have a building from God, a house not made with hands, eternal in the heavens."
(2 Corinthians 5:1)
9. Provision
"We have an altar…"
(Hebrews 8:10)
What about you? What other blessings in Christ can you think of?
[This list has been adapted from F.E. Marsh's works, coming soon to Blue Letter Bible.]