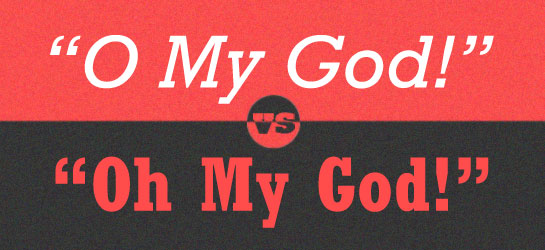 Just because "Oh my God!" is abused in our culture—a case of taking great God's name lightly and in vain—doesn't mean we should refrain from the vocative "O my God!"
Note in the Bible how often it is used in conjunction with imploring God to listen, to see, to remember, to arise, and to save.
2 Chronicles 6:40
Now, O my God, let your eyes be open and your ears attentive to the prayer of this place.
Ezra 9:6
"O my God, I am ashamed and blush to lift my face to you, my God, for our iniquities have risen higher than our heads, and our guilt has mounted up to the heavens.
Nehemiah 5:19
Remember for my good, O my God, all that I have done for this people.
Nehemiah 6:14
Remember Tobiah and Sanballat, O my God, according to these things that they did, and also the prophetess Noadiah and the rest of the prophets who wanted to make me afraid.
Nehemiah 13:14
Remember me, O my God, concerning this, and do not wipe out my good deeds that I have done for the house of my God and for his service.
Nehemiah 13:22
Then I commanded the Levites that they should purify themselves and come and guard the gates, to keep the Sabbath day holy. Remember this also in my favor, O my God, and spare me according to the greatness of your steadfast love.
Nehemiah 13:29
Remember them, O my God, because they have desecrated the priesthood and the covenant of the priesthood and the Levites.
Nehemiah 13:31
I provided for the wood offering at appointed times, and for the firstfruits. Remember me, O my God, for good.
Psalm 3:7
Arise, O Lord! Save me, O my God! For you strike all my enemies on the cheek; you break the teeth of the wicked.
Psalm 22:2
O my God, I cry by day, but you do not answer, and by night, but I find no rest.
Psalm 25:2
O my God, in you I trust; let me not be put to shame; let not my enemies exult over me.