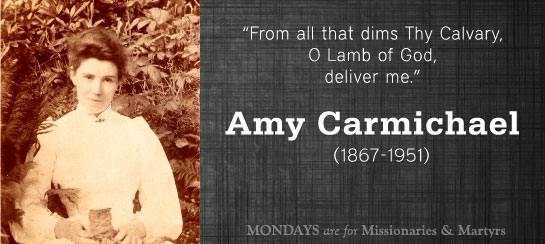 Amy Carmichael understood the Great Commission and lived it out. At a young age, she answered God's call to the mission field and set sail to India, where she would spend the 50 years serving the church—the rest of her life. While in India, Carmichael founded the Dohnavur Fellowship, a refuge for child sex slaves—children unwanted by their parents and sold to the temple.
Amy Carmichael loved the people of India and the children that she ministered to. She became an adoptive mother to them, and they affectionately called her "Amma."
Carmichael also wrote poems, hymns, and prayers. I love this prayer of hers:
From prayer that asks that I may be
sheltered from winds that beat on Thee;
from fearing when I should aspire;
from faltering when I should climb higher;
from silken self, O Captain, free
Thy soldier who would follow Thee.
From subtle love of softening things;
from easy choices, weakenings.
Not thus are spirits fortified;
not this way went the Crucified.
From all that dims Thy Calvary,
O Lamb of God, deliver me.
Give me the love that leads the way,
the faith that nothing can dismay,
the hope no disappointment tire,
the passion that will burn like fire.
Let me not sink to be a clod;
make me Thy fuel, flame of God.
May we echo those words today!