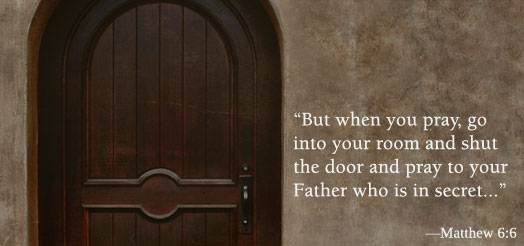 You may have heard this quote before:
"What a man is in secret, in these private duties, that he is in the eyes of God and no more…"

—John Owen, Indwelling Sin in Believers (1667).

While reading this morning, I found a similar quote. It really hit home:
"It is in secret, not in public, that what we really are as Christians becomes clear. It is not my visible service so much as my hidden life of devotion that is the index of my spirituality. That is not to despise my public life, but to anchor its reality to the ocean bed of personal fellowship with God.

I may speak or pray with zeal and eloquence in public. I may appear to others to be master of myself when in company. But what happens when I close the door behind myself and only the Father sees me?"

—Sinclair Ferguson, In Christ Alone: Living the Gospel-Centered Life, (Reformation Trust, 2007), 159.