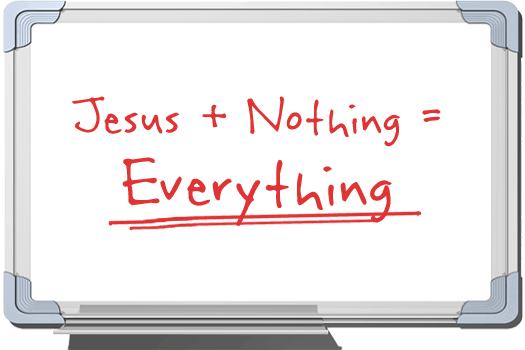 the
The statement is simple, yet profound:
Jesus + Nothing = Everything
Stop and think about that. Chew on it. Say it to yourself with unction: "Jesus plus nothing equals everything." The statement comes from Tullian Tchividjian, grandson of Billy Graham and pastor at Coral Ridge Presbyterian Church. It was the title of a sermon series he delivered last year on Paul's letter to the Colossians (you can listen to, or watch, the series here).
Tchividjian (rhymes with 'religion') expounds on Paul's letter, reminding us that Jesus Christ is supreme over all things. Consider Paul's words in Colossians 1:
He is the image of the invisible God, the firstborn over all creation. For by Him all things were created that are in heaven and that are on earth, visible and invisible, whether thrones or dominions or principalities or powers. All things were created through Him and for Him. And He is before all things, and in Him all things consist. And He is the head of the body, the church, who is the beginning, the firstborn from the dead, that in all things He may have the preeminence.

For it pleased the Father that in Him all the fullness should dwell, and by Him to reconcile all things to Himself, by Him, whether things on earth or things in heaven, having made peace through the blood of His cross.

And you, who once were alienated and enemies in your mind by wicked works, yet now He has reconciled in the body of His flesh through death, to present you holy, and blameless, and above reproach in His sight—if indeed you continue in the faith, grounded and steadfast, and are not moved away from the hope of the gospel which you heard, which was preached to every creature under heaven, of which I, Paul, became a minister.
(Colossians 1:15-23)
Don't you love that? Paul helps us see the all-sufficiency and superiority of Jesus Christ, the fullness of His preeminence and beauty, so that we would be zealous to turn from our idols and human ideals and turn to Him alone for our freedom and grace that we so desperately long for.
It's not "Jesus + gifts" or "Jesus + blessings" or "Jesus + job" or "Jesus + family" or "Jesus + religion"… It's Jesus + nothing = everything. Yes, for the believer, He really is everything; He really is enough. And I pray that for you today, reader. That Jesus would be more than enough, His grace would be more than sufficient, and that no matter what circumstances life brings us—good or bad—we would be able to confess, along with Job, "Blessed be the name of the LORD!" (Job 1:21)