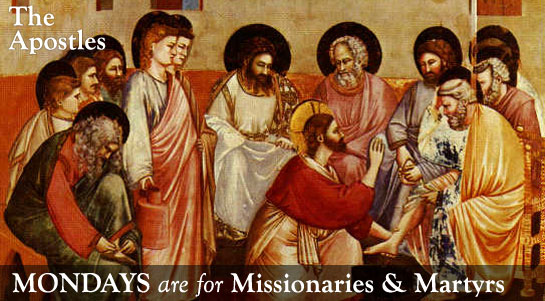 This post is part of an ongoing series, highlighting the martyrdom of the apostles, deacons, and missionaries of the first century church.
"Blessed are you when they revile and persecute you, and say all kinds of evil against you falsely for My sake. Rejoice and be exceedingly glad, for great is your reward in heaven, for so they persecuted the prophets who were before you." Matthew 5:10-12

Meet (Simon) Peter the apostle
As if you needed an introduction, right? Many are already familiar with the apostle Simon Peter. He and his brother Andrew left their careers as fisherman to follow Jesus, when he called them by name (Matthew 4). Many times, he stood out as a leader with deep devotion for Jesus (John 6:68). He walked on water with Jesus (Matthew 14:26-33). He was zealous in his love for Christ, but was also corrected by the Lord for "missing the point" on a few well-known occasions (John 13:8, John 13:38). He fought to defend Christ when he was arrested (John 18:10-11). Peter is also the one who shamefully denied Christ three times when He was about to be crucified (Luke 22:55-61). In John's gospel, Peter is the first person to enter the empty tomb (John 20:1-9). When Peter saw the risen Jesus out on a boat in John 21, Peter immediately plunged into the sea to meet his Lord (John 21:7)!
Following the ascension of Jesus, Peter was a missionary and preacher of the gospel without any shame. He delivered the open-air sermon at Pentecost (Acts 2:14-47). Two times, in the book of Acts, he was arraigned with the apostle John before the Sanhedrin. Preaching the gospel, he defied them both times (Acts 4:7-22; Acts 5:18-42). He continued to preach the gospel throughout Lydda, Joppa and Caesarea.
Peter the martyr
Again, the first of ten persecutions to hit the early church was stirred up by the emperor Nero around 64 A.D. Nero's relentless rage against Christians was so fierce that the early historian Eusebius recorded, "A man might then see cities full of men's bodies, the old lying together with the young, and the dead bodies of women cast out naked without reverence of that sex in the open streets." In fact, many Christians in those days thought that Nero was the foretold Antichrist because of his savagery and abominations against Jesus' early followers.
It was during this persecution that Peter was condemned to death. It is known that during this time that many Christians encouraged Peter to leave the city and avoid persecution. As the story goes, Peter was persuaded at first, but upon approaching the city gates, he saw a vision of the Lord Jesus that further aided in his understanding of Christian suffering. Peter then turned around and returned to the city where he was crucified upside down at his own request, saying he was "unworthy to be crucified after the same form and manner as the Lord was."