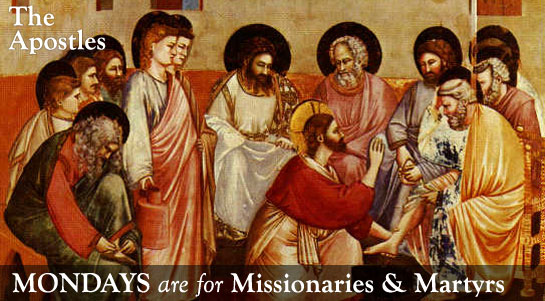 This post is part of an ongoing series, highlighting the martyrdom of the apostles, deacons, and missionaries of the first century church.
"Blessed are you when they revile and persecute you, and say all kinds of evil against you falsely for My sake. Rejoice and be exceedingly glad, for great is your reward in heaven, for so they persecuted the prophets who were before you." Matthew 5:10-12

Life and death of Jude
Jude (also called "Judas" but not Iscariot) is considered a brother of James and Jesus (Matthew 13:55, Mark 6:3). As you may have guessed, he is also the author the the New Testament book Jude.
Historians tell us that Jude traveled throughout the Mesopotamian region to preach the good news of Jesus Christ. He was martyred in pure brutal fashion, beaten to unconsciousness, only before his head was split in two with an axe.

Life and death of Bartholomew
Bartholomew is one of the twelve apostles appointed by Jesus (Mark 3:18). He is said to have traveled through Asian Minor and India, where he translated the Gospel of Matthew into their native tongue. He was beaten, crucified, then beheaded.

Life and death of Thomas
Thomas is also one of the twelve apostles appointed by Jesus (Mark 3:18). He is the one we get the term "doubting Thomas" from, since he is best known as the apostle who doubted Jesus' resurrection, demanding to see Jesus' wounds before he would believe (John 20:24-29). As Scripture reveals, Thomas touched the very wounds of Christ, and he believed wholeheartedly, exclaiming, "My Lord and my God!"
Thomas went on the preach the good news of the risen Savior to the Parthians, Medes, Persians, Bactrians, Hyrcanians, Carmenians, and Margians. While preaching in Calamina, India, the pagan priests went after him. They eventually martyred Thomas by thrusting through him with a long spear.